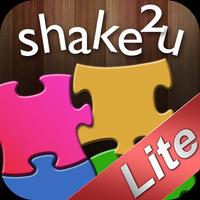 shake2u lite - transfer files
Free Get
Screenshots for iPhone
More Screenshots for iPad
shake2u lite - transfer files Description
When it comes to sending files in your iPhone to friends, is email the only way you know? Does it bother you when the file is too big and the server too busy, network too slow? Do you wish there is a faster way to send instantly, right at the moment? Do you want to be empowered by controlling whether your friends can save or redistribute the docs and photos you send to them?
shake2u is the app you need.

With shake2u, you shake your iPhone with your friend together, and the connection is seamlessly established for you to easily, instantly send files, photos and contact info over WiFi or Bluetooth. Open and view all kinds of files you receive, transfer them to other apps or PC, save to Photo Album, or send them via email.

Another forte of shake2u is security and protection. When you send sensitive documents or pictures, you can set them to "Read Only" -- so that they can only be viewed within shake2u and not exported to other apps or emailed out; or "Delete when expired", so that the files are automatically deleted after the time you set.

Key Features:
• Connect two iPhones/iPad/iPod Touch via WiFi or Bluetooth automatically by shaking them together.
• Transfer various files – docs, photos, videos, contact info, business cards.
• Use [open in] to import to-be-transferred files into shake2u.
• Use [open in] to export received files to other apps.
• Send the received files out via email.
• Automatically send your business card along with the file you send.
• Set [Read only] so the file you send cannot be further distributed other than opened inside shake2u.
• Set [Delete when expired] so the file you send is automatically deleted after a certain period you set.
• Set [Delete after browsing] so the file you send is automatically deleted after browsing.
• File types supported include:

- Video files (mp4, mov, m4v…), Audio files (aac, mp3, m4a…)
- Image files (jpg, tif, png, gif, bmp, BMPf, ico, cur, xbm)
- MS Office (doc, docx, xls, xlsx, ppt, pptx, pps, ppsx…)
- iWorks '09, '08, '06 files (key, numbers, pages…)
- PDF file (pdf)
- Text files (txt, rtf, rtfd)
- Web files (htm, html, xml, svg), Safari Web Archives (webarchive)
- Compressed files (zip, rar)

shake2u lite has all the features of shake2u except that it can only transfer an item per day.
More Information
Language:

Chinese

English

French

German

Italian

Japanese

Korean

Spanish

More