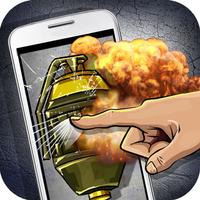 Simulator Weapon Grenade
Free Get
Simulator Weapon Grenade Description
Simulator Weapon Grenade
Weapons Grenade Simulator - a game application simulator, where you can play on your phone grenade, watch animation and listen to the sound. Loved to play with friends in the war? Like beautiful and bustling military grenades? Friends want to play? All grenades different, there are exploding, smoke bombs and ultra sound!
Take advantage of our secure bombs! With this application you can listen to the sound grenades, see the beautiful animation and do not hurt yourself and loved ones! Choose one of the grenades, click on the check and hide!
Attention joke game created for pranks, jokes and is absolutely safe for your health!
Download the game for free now and play anywhere without an internet connection!
Thank you for choosing our games and applications! Leave us feedback and we will try to make them more interesting for you!
Simulator Weapon Grenade 1.0 Update