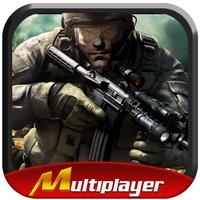 Sniper Shoot ANTI Terrorist FPS Online
Free Get
Sniper Shoot ANTI Terrorist FPS Online Description
If you are into counter terrorist games with lots of unique weapons, shooting features and fps characteristics, you are at the right place. In one of the most exciting free shooting games, you will be in the role of a hero. A hero that needs to help the people and save them from the dangerous terrorist. Can you master the anti-terror shooter?
FIRST PERSON SHOOTER WITH AMAZING GRAPHICS

The graphics in this game is amazing. The FPS experience is incomparable to any other game. The sound effects and the whole ambient will really make you feel like you are a part of a counter-terrorist team. Destroy your enemies in a powerful FPS with astounding environments.

DIFFERENT GAME MODES

To keep the game ultra-interesting, we prepared 3 game modes: easy, medium and hard. The 3 game modes are made with a purpose to keep you interested all the time. Use the easy to get into the game and see how far you can go. After you learn the experience try the harder levels.

Sniper Shoot ANTI Terrorist FPS

- first person shooter gameplay
- action driven with easy controls
- SHOOTING ONLINE WITH EVERYONE IN THE WORLD
- Shooting online with friends
- interesting and unique environments
- ability to play with a teammate
- 3 difficulty modes with different terrorist bots
- gives real shooting experience
- amazing sound effects
- one of the best shooting games!
………………………………………………………………………
No matter if you are a fan of FPS games or sniper shoot exciting gameplay, you will love this game.
There are different variety of weapons to choose from, crazy dangerous enemies and a lot of challenging moments.
Enjoy one of the best free fps games and shoot terrorist game with counterterrorism theme.
Get it free!