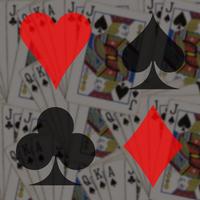 Solitaire Game Pack
Free Get
Solitaire Game Pack Description
Here are Solitaire games for your iPad! Fifteen popular solitaire games are included: Double Klondike, Doublets, Fourteen, FreeCell, Golf, Klondike, Poker, Saratoga, Scorpion, Spider, Spiderette, Spiderwort, Thirteen, Whitehead, and Yukon

Key features:
• Retina display supported
• Portrait and Landscape supported
• Easy-to-use drag-and-drop interface for moving cards
• Games are saved and resumed automatically
• Unlimited undo/redo
• Does not interrupt playing music
• Selectable table backdrops
• Selectable card backs
• 3-card deal and 1-card deal Klondike games*
• Animated deals user-configurable
• Button bar location user-configurable

*A resumed Klondike game will be of the game type in effect when play originally began. If you change the Klondike game type, it will not take effect until you explicitly start a new game by tapping New at the bottom of the Klondike screen.
Solitaire Game Pack 2.0.3 Update