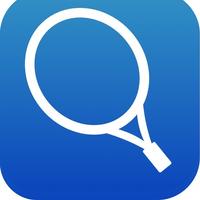 Squash Quash Technology
Free Get
Screenshots for iPhone
More Screenshots for iPad
Squash Quash Technology Description
Quash was started to bring the game of squash to the 21st century. This tool helps use technology to review your game. Squash is as much a mental game as it is a physical game. Mentally, it lets you keep your head in the game by providing key statistics and facts about your wins, loses, forced and unforced errors by tracking the final stroke results of each point. Combining the results of hit after hit into easy charts and tables allows players to easily identify both their strengths and weakness as well as figure their opponents. Physically, there is video stroke analysis tools to help determine how to generate more power and more control. Squash is a physically demanding sport that a strong mind and body, and this app lets you figure out the best way to channel both.
App Features List :
There are for main parts to Quash. First, analyzing, or taking the players game apart revealing where most points are won/lost. Second, tracking , or tracing the shot that ended the point so the app can analyze it. Third, sharing the players statics with coaches or friends, so in lessons, the coach will know what to focus on. Forth, reflecting is a big part of squash. The player can write notes about opponent's. Thus, the next time him/her plays that opponent, they will know their weaknesses, giving them the upper hand. From there, we are building video swing analysis and player benchmarks and comparison tools.
Squash Quash Technology 1.1 Update
Our team have added new feature to make squash playing/tracing more simpler.
On Play Game Page, We have replaced the 'zone' button with setting icon & implemented "Play Mode" feature under it. On click of setting icon, you will see two option,
1) Zone - It will work as developed previously. User can able to switch between two different zones of court
2) Play Mode: Now user can able switch between multiple "Play Modes" from here. Play Modes are nothing but the different ways to create collision point while playing / drawing line on the court. You will see 3 options under it,
Tap base : This is the default behaviour implemented previously to create collision point. User have to tap with other finger on the court to create collision point.
Time base : In this option, now user don't have to tap on the screen to create collision point. He just have to wait for 0.5 seconds to create collision point & start drawing next.
Pressure base : With this option, users have to apply pressure(3D Touch) to create collision point. 3D Touch pressure option available only from 6s & further devises
More