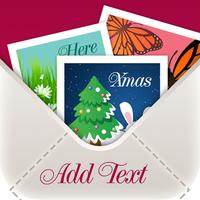 Styletext (Text on Pics) Free - Drawing pictures of my style
Free Get
Styletext (Text on Pics) Free - Drawing pictures of my style Description
Simply write some sweet text, make it look sweet, then share it to instagram, facebook, twitter and more!

You can pick between one of our themes, where we've matched some awesome fonts and cool backgrounds.

Or you can add text to your own photo, or one of our photo themes!

Then you can even change the font, or pick a new background. You've got tons of options to make it unique and to look like whatever style you want!

FEATURES:

- Easy color for the font
- Change the font size
- High resolution
- Share the images via Facebook, Twitter, Instagram and Tumblr
- Send as an email
- Photo editing (Adjust Brightness, Contrast, Saturation and Sharpness)
- Enhance Photos in Seconds

We hope you love it! Enjoy!
Styletext (Text on Pics) Free - Drawing pictures of my style 2.0 Update