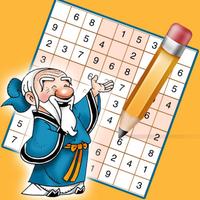 Sudoku Generator
Free Get
Screenshots for iPhone
More Screenshots for iPad
Sudoku Generator Description
YOU WON'T NEED TO BUY ANYMORE SUDOKU PUZZLES IN YOUR LIFETIME NOW.

Sudoku Generator uses our own-invented proprietary algorithm that has been tested to generate puzzles of even 81x81 grid size.

This is not an ordinary Sudoku solver that you might have come across in the market. This is a true puzzle generator and a solver. Most of the solvers in the market ask you to input a certain minimum number of cells before they can solve the puzzle. Theoretically, a puzzle board with a single digit on the entire board (or no digits at all) is a valid Sudoku puzzle as it meets all the conditions (no digit repeats in a row, column, and block) of a valid puzzle. Our solver will solve this puzzle quickly. Try with zero, one, two, three, or more number of digits and every time you will get a valid solution.

Product Features:

* Generate a puzzle of your decided difficulty level
* Create a puzzle yourself
* Use the algorithm to solve any puzzle in the world

IMPORTANT NOTE: YOU NEED A LIVE INTERNET CONNECTION FOR GENERATING A NEW PUZZLE AND SOLVING AN EXISTING ONE.
Sudoku Generator 4.0 Update
Introducing 25x25 puzzle generator and solver. Generate new puzzles and solve the known 25x25 puzzles using this updated version.
The overall user interface is improved with pop-up keypad on iPhone.
More