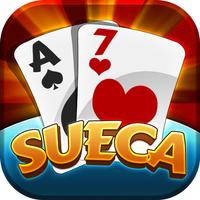 Sueca Multiplayer
Free Get
Screenshots for iPhone
More Screenshots for iPad
Sueca Multiplayer Description
Sueca is usually played by four players in fixed Partnerships, partners facing each other.

In Sueca Multiplayer 40 Cards from a standard 52-Card pack are used for play, The card in every suit rand from high to low : A , 7 , K , J , Q , 6 , 5 , 4 , 3 , 2.

The aim of the game is to win tricks containing valuable cards. The values of the cards are
Aces 11 points each,
Seven 10 points each,
King 4 point each,
Jack 3 point each,
Queen 2 point each,
Other cards (6, 5, 4, 3,2) no points
This gives a total of 120 points for cards.

Ten Cards are then dealt to each player then dealer defines the trump by turning the last card of the deck and showing it to all players.

In Sueca game Yellow Filled circles indicates user's winning games (tricks).
The team which takes more than 60 points (60+) in one round,scores one trick.
If a team takes more than 90 points (90+) in one round, then they score two tricks instead of one.
If they take all the hands (all the cards in the deck), then they win the rubber immediately.
The first team to score four games wins the set (called a "rubber").
In case of a tie, neither team wins any points.

The Sueca Multiplayer game is played counter clockwise. Randomly any of the player leads to the first trick. Players must follow suit if they can.
A player who has no card of the suit led may play any card.
If any cards of the trump suit are played to a trick, the highest trump wins. Otherwise, the trick is won by the highest card of the suit led.
The winner of each trick leads to the next.

When all Ten Cards have been played, each side counts the card points in the
game. The every team needs at least 60 points to win; otherwise they lose.

The best thing about Sueca is that it is absolutely Free! Our game features beautiful graphics and smooth game play.

Download Sueca today and do rate and review the game.
Sueca Multiplayer 1.1 Update
Enhance user game experience by fixing series of bugs and crashes.
More
More Information
In-App Purchases:

Pack of Chips $0.99

Pack of Chips $4.99

Pack of Chips $9.99

Pack of Chips $9.99

More