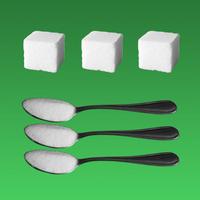 Sugar grams to cubes or spoons
$0.99
Sugar grams to cubes or spoons Description
If you are concerned with sugar overconsumption and want to understand food labels better or wish to educate and alert others about sugar content then this app is the right tool for you. 

With this app (is also available for Mac under title "Sugar in Cubes & Spoons"), one can easily get the number of teaspoons of sugar or number of sugar cubes for a given sugar content in grams. The results are presented as a picture showing actual teaspoons / sugar cubes and also in numeric form.

Most people don't fully grasp the variety of units (gram, mL, percentages) common on food nutrition labels. Specifically for sugar, do you really understand how much sugar 32 grams actually represents? Probably not.

Sugar content presented as a picture is much more easily understood and is somewhat eye-opening. Try the app out on people around you and you'll be amazed by how much we all underestimate the sugar content in what we're consuming.
Sugar grams to cubes or spoons 3.1 Update
Update for iOS 11, minor problems fixed
More
More Information
Language:

English

French

German

Italian

Portuguese

Russian

Spanish

More