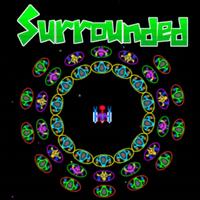 Surrounded Invaders in Space
Free Get
Screenshots for iPhone
More Screenshots for iPad
Surrounded Invaders in Space Description
Surrounded by Invaders in Space.

There's nowhere to run, you are surrounded – Its time to stand and fight with this retro styled arcade shoot em up.

Fortunately, You have a futuristic, high powered, double blaster, state of the art space ship with a triple powered plasma shield.

Unfortunately, You are out numbered 78 to 1 by spinning, diving invaders from outer space.

Fortunately, You have radar so can keep an eye on the invaders that circle behind you.

Unfortunately, The invaders will loop around and dive towards you at suicidal speeds.

Fortunately, You are a highly skilled arcade player with years of blasting practise!

Unfortunately, it may not be enough …...


So you are surrounded, there's nowhere to run, but you can spin on the spot to turn and shoot the spiralling invaders as they close in for the kill.

Shields are operated by the panic button at the top of the screen, they are very effective but will take time to recharge after each use.


Tactics :- You know we really haven't worked out the best tactics yet.

1. Shoot closest aliens before they overwhelm you.

2. Shoot diving aliens since those are the ones that fire at you.

3. Shoot the aliens that sneak around the back and surprise you. Use the radar to keep an eye on these invaders.


Thanks for looking, now are you brave enough to save the galaxy!
Surrounded Invaders in Space 1.2 Update
Now with 5 lives and more powerful shields.
More