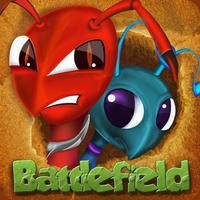 Tap Tap Ants: Battlefield
Free Get
Screenshots for iPhone
More Screenshots for iPad
Tap Tap Ants: Battlefield Description
### National Mobile Application Award Winner ###
### Nominated in World Summit Award 2015 ###

Experience the most dramatic battle in Tap Tap Ants: Battlefield with the hungry ants' army. Can you defeat that ants' army and survive? Have you got the tapping skill to protect your food?

Keep your fingers tapping on those hungry ants that will keep running towards your food and tap as fast as you can to make sure they don't get anywhere near your food. Use firewave, fireball, bomb and spikes to squeeze the ants.

You need to survive to win in the Survival mode. Ants will rush from all directions to take away your delicious cookies. This will increase your adrenaline flow, so make sure you tap fast and keep your food safe.

Don't lose this war between you and bug ants, as it's a war of dignity. Don't let your fingers go idle! Keep tapping in all new exclusive Tap Tap Ants: Battlefield until you win it!

----- FEATURES -----
- Fast paced tapping action.
- Two game modes - Survival and War.
- Challenging new missions.
- Power yourself up with upgrades.
- Exciting new Survival Mode.
- Multi-touch and Combos.
- Surprise elements to help you score more.
- Fun gameplay customization features.
- Use powerful weapons to fend off hungry ants.
- Bonus lady Bugs which adds additional gameplay depth.
- Attractive rewards which can be unlocked by completing missions.
- Amazing social features and reward system.
- Game center integration. Get on top of the global leader board.

Hours of fun, guaranteed. Tap Tap Ants: Battlefield is suited for all age groups.

Having any problems or suggestion? We would really love to hear your opinion! You can reach us at contact@riseuplabs.com

Or

*Follow us on Twitter : @RiseUpLabs
*Like us on Facebook : https://www.facebook.com/riseuplabs
*Follow us on Google+ : https://plus.google.com/+riseuplabs
*Watch us on YouTube : http://www.youtube.com/RiseUpLabs
*Visit our Website : http://www.riseuplabs.com
Tap Tap Ants: Battlefield 4.2 Update
+ Improved game performance for all iOS & devices
Thanks for playing this game and your feedback & suggestions. Keep it coming!
We update this game continuously so that it works great for you. We're also working on fun new features, and we're excited for you to try them out soon.
If you find a bug or an issue, please leave us a feedback at contact@riseuplabs.com
Tell us how you like this newest version at http://www.riseuplabs.com/download-games/tap-tap-ants-battlefield/
Finally, if you think this game is worthy, please write us a review. We'd greatly appreciate that.
More