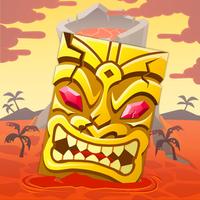 Tiki Lavalanche
Free Get
Tiki Lavalanche Description
The TIKI TOTEMS Saga CONTINUES!
FREE for EVERYONE to enjoy.

The Tiki Gods were not pleased. A giant lavalanche came and destroyed the entire village. You have one last chance to make this right.

MAIN FEATURES :
- 135 levels of exciting block destroying, village saving fun!
- FREE level editor
- ability to share levels with your friends via email!
- fantastic new mechanics
- beautiful Retina graphics!
- Game Center achievements
- Updates! More levels on the way!

Don't let the golden blocks fall into the lava. Fail to do so and you shall face the wrath and anger of the Tiki Gods! Do you have what it takes to save what is left of your village?