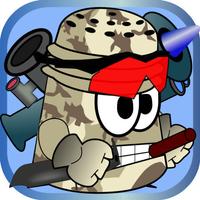 Tiny Defenders Vs Slimes
Free Get
Screenshots for iPhone
More Screenshots for iPad
Tiny Defenders Vs Slimes Description
Get ready! The Slimes are coming! You stand as the Commander of 34 types of Tiny Defenders against 26 varieties of persistent, aggressive but funny Slimes. With Colonel Khorn by your side what can go wrong? Why did the Slimes come? Are they Friends or Foe? That's for you to find out! They don't just slide across the screen, they can dig underground or attack you from above. You will encounter Yucky, Indy, Hopper, Blimp, Shinobi, Zeppelin, Slimebie and if you survive to reach the last level, B3 a.k.a Slimey! There's no hiding from this invaders! But you don't need to hide. No you are ready for battle! You got Snipers, Spring Traps, Bombs, Landmines, Archers, Light Infantry, Rocket Infantry, Mortars, Commandos and Airplane Bombers to name a few. You even have WMDs like the Awesome Electron Cannon! Yeah Boy! Who's afraid now!?! Not you!

Tiny Defenders Vs Slimes is a fast pace Strategy Game wherein you place different types of Defenders in the Map to suppress advancing Slimes. Lead your troops to Victory and find out why the Slimes suddenly showed up.

Features:
50 FUN-SLIMEY LEVELS
Defeat the slimes in all 50 levels in 5 different Maps. Through Day, Night, Fog and Rain. You will enjoy the scenery in the Grass Lands, miss you trip at the Flight Line, keep your guard up in Ghetto Town, relax at The Beach and keep you cool at Lava Land! Simple Story, Fun Mini Games and Awesome Boss Fights! Best of all it's FREE!

SLIMEY OPPONENTS
Slimes evolved into a smart and cunning species. Have you seen a Slime ride a motorcycle, drive a Mini or command a Tank? You're about to see it here. Some are Ninja masters, others were born athletes. Some likes to chill underground while others conquered the Skies. They will do anything to win!

DEFENDERS
Each of your defenders have special abilities to counter the attack of slimes. You will meet Sniper Girl- she can deliver a 1 Hit Kill. Slugger - A Champion Boxer that will knock of the teeth of Slimes if they have any. Pyro - throws molotov cocktails. Liquid Nitrogen that freezes slimes to a stand still. And Colonel Khorn, you will meet him soon enough.

A LITTLE BIT OF WORD PUZZLE
Pull out your thinking cap because this game is not just about exploding bombs and awesome fireworks. You have the opportunity to earn more coins and minerals by guessing some mystery words. The Slimes ate everything they came in contact with. Like toasters, microwaves, flowers including the alphabets! If you can guess the mystery words that shows up in the screen, then you can earn more coins and minerals to help you out in the game. Then you can tell your friends that you are the Spelling Bee Master! Hmm did the slimes eat a BEE too?

LOTS OF UPGRADES FOR DEFENDERS
When bigger and badder Slimes show up, you better be ready for them. You can upgrade your Defenders to meet the challenge. Train them to Move around the Map. Yes you read it right, you can command defenders to move to a different location and not just stuck where you placed them originally. You can also train them to detect and shoot enemies from behind. No more Surprises from those sneaky enemies! Other upgrades include Increase Health, Increase Drill Time, Increase Ammo, etc.

SHOW OFF YOUR ACHIEVEMENTS
Earn 22 awesome achievements and show off your might in eradicating Slimes.

COIN PACKS
Need more coins to fire the Electron Cannon or buy all the upgrades in the Shop? Coin Packs are also available via In-App Purchase in the Shop Menu for a low price.

OTHER GREAT FEATURES
-Full Support for 4 inch Retina Display.
-Compatible with IOS 5.1 and later. iPhone 4, iPhone 4S, iPhone 5, iPod Touch 4th Generation and later

PLEASE NOTE! Some game items can be purchased for real money. If you don't want to use this feature, please disable in-app purchases in your device's settings.
Tiny Defenders Vs Slimes 1.16 Update
Updates:
Go to the Shop Menu to take advantage of these great upgrades!
1. Ultra reduced cost for "Learn Agility" allowing you to move your Defenders around the Map.
2. Ultra reduced cost for "Increase Awareness" allowing your Defenders to shoot slimes from behind.
3. Minor tweaks.
More
More Information
In-App Purchases:

8000 Coins Pack $1.99

100000 Coins Pack $4.99

3000 Coins Pack $0.99

1 Million Coins Pack $9.99

20000 Coins Pack $2.99

50000 Coins Pack $3.99

More