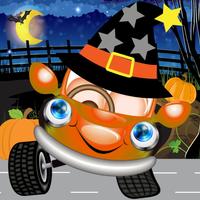 Car Games for Little Cars
Free Get
Screenshots for iPhone
More Screenshots for iPad
Car Games for Little Cars Description
Beep beep! Does your little one love cars? Then drive into some car fun with the Car Games for Little Cars App! This fun holiday inspired app was designed by teachers with over 15 years childcare experience, using their philosophy of learning through play. Included in this endearing app are car puzzle games with assorted cute themes, dancing cars where you can make the cars dance to cool and funky music, and the best part of all… driving! Your little ones will have to slam on the brakes to stop from crashing in the many delightful themed worlds. Another fun element is the Halloween games, get into the spooky spirit of the holiday with these holiday themed puzzles, dancing, and driving!

Driving Games
Hop into one of the themed cars and drive down the road decorated to match the fun theme, like trains, birthday, and race cars. But watch out for the obstacles driving by… you will have to step on the brakes to slow down or stop in this interactive super fun driving game! Designed specifically for younger kids this entertaining game will keep you on the road for tons of fun.

Car Puzzles
This fun and enriching game will get your little one figuring things out and learning how to play with puzzles! With every game themed including Easter, valentines, pirate, trains, race cars, and even unicorn and princess it will get your little ones excited about playing puzzles! Playing the Car Games for Little Cars App will also promote…
-Fine motor skills.
-Memory and recognition skills.
-Vocabulary and language.

Dancing Cars
Does your little one like to dance? Better yet do they like to make cars dance? This cute and engaging game let's your little drivers tap the car and make it dance, and everything else on the makes a sound when you tap it. It matches the themes of the puzzles so they get to play with the puzzle images they solved, and with every theme different music plays that is sure to get your little ones bopping and having fun!

Halloween Cars
What little drivers adore Halloween? If you dig the spooky holiday these fun games will keep you entertained and get you into the holiday spirit! More puzzles, dancing cars, and driving games await, and all with different Halloween themes. In Halloween the little car will be dressed up as a pumpkin car, a monster car, a witch car and a candy car. It's holiday fun at it's best and is sure to ramp up your little one's imagination and excitement for the holidays!

Drive into some fun with the Car Games for Little Cars App and let your little drivers learn through play with the holidays and all the beloved preschool themes.
Car Games for Little Cars 1.4 Update
Updated puzzle games with loads of new themes including all the holidays, and new tap dancing where you can make the cars dance to fun music.
Also new driving games in 6 different exciting worlds. And new Halloween games and puzzles that get you into the spooky spirit of the season!
Thank you for your support, we hope you enjoy playing and learning with cars!
More