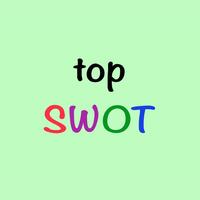 topSWOT
Not Available
Removed
from the App Store
topSWOT Description
topSWOT is an ideal App for finding your strengths as a learner and the areas that you need to improve. Anyone can use it – school, college and university students, adults returning to study after a break, parents, teachers and lecturers – anyone interested in reflecting on their own or others' learning. It takes a simple, straightforward card-game approach. topSWOT uses powerful educational approaches written as straightforward statements on cards. It covers areas such as learning skills, thinking and learning, creativity, organising your learning, multiple intelligences and well-being. And topSWOT gives you ideas on how to be a better learner. It is designed for iPad but will work on smaller screened iOS devices.

The topSWOT experience
• Elegant and simple
• No distractions or intrusive graphics or sounds
• Intuitive and easy to play game
• Works at a pace that suits you
• Easy to move cards by touch and drag
• Organises your thoughts about your own learning
• Engaging because it is about you and your learning
• Records screenshots if you wish
• Offers you 'Help' when you need it
• Allows you to go back and change your mind at any time

Go further with topSWOT by
• Using the results and asking someone to coach you
• Coaching learners using strengths and development needs
• Helping your own children at school, college or university
• Undertaking further reading
• Collecting data from a number of students to find strengths and areas for improvement across a group or class
• Improving your own teaching or lecturing over time using your students' responses
• Reducing bureaucracy by using this App rather than trying to track paper profiles

The cards cover the following:

Learning and thinking
This set of cards looks beyond a general measure of intelligence. You have other intelligences that you can identify and improve. Don't confuse this with 'learning styles'. A lot of what is said about learning styles is plain wrong. You should identify approaches to your own learning which work for you.

Learning skills
This set of cards looks at learning skills that build on one another. They range from remembering basic facts and pieces of information to creating new ideas from a much deeper understanding. Thinking about your learning in this way provides you with a framework of skills to help you to be successful in any area of study.

Assessing my learning
This set of cards looks at the skills involved in assessing how well you are learning as you go and in deciding what your next steps are in learning. Good learners understand the reasons why they are learning certain things and how to assess their progress.

Organising my learning
This set of cards looks at the skills involved in organising the information and materials related to your learning. Good learners make sure they do not run out of time. They take time out to relax. They do not spend too long on the one thing. You can find plenty of advice on the internet about 'study skills'.

Body, brain and spirit
This set of cards looks at some of the skills involved in thinking and learning. Probably your grandparents could have given you sensible advice about getting plenty of sleep and rest, making sure you are not hungry or thirsty, avoiding being tense or worried, being happy and having fun. Be a good learner and think about your own wellbeing.

Being creative
This set of cards is about relating our learning skills to creativity. It is all very well memorising things for exams and interviews, but the future needs people with creative minds. You do not have to look far for the challenges the world faces – climate change, energy and water shortages, developing new antibiotics to fight infections, and feeding increasing numbers of people. You have to bear creativity in mind when you learn – and learn to think creatively.
topSWOT 0.1.0 Update
This update is signed with Apple's latest signing certificate. No new features are included.
More