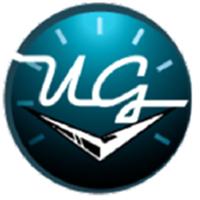 UltraGauge
Free Get
Screenshots for iPhone
More Screenshots for iPad
UltraGauge Description
UltraGauge Blue is a one-stop end-to-end OBDII (OBD2) Automotive Information Center and Scan Tool.

Requires UltraGauge Blue Adapter and this App!

In short, UltraGauge Blue can:
- Display 100's of OBD2 Gauges
- Display Check Engine Light and Trouble Codes
- Clear Check Engine Light
- Provide alarms on conditions like Check Engine Light/Trouble Codes, time to change oil, over temperature, and much more
- Connect to any OBD2 compliant vehicle. This includes:
-all 1996 and newer cars/light-duty trucks/RVs sold in the US/Canada
-International vehicles which are OBD2 compliant

By implementing the solution from the Mobile Application all the way down to the OBDII connector, it provides:

--> A tested end-to-end solution from the app all the way down to the vehicles network (IT JUST WORKS!)
--> Ultra-High performance by providing bulk operations and command offload down to the OBDII module
-->24x7x365 operations (data is computed/stored even if the mobile device is NOT in the vehicle!)

The key to the solution is the UltraGauge Blue Active Adapter technology. It gathers, computes, and stores information about your vehicle any time the ignition is turned on. As a user, you can view and act on this data via the UltraGauge Mobile Application which automatically connects to the Module via Bluetooth when in range.

Solution requires UltraGauge Application (this App), UltraGauge Blue Bluetooth Hardware Adapter (order online from www.ultra-gauge.com), and your OBDII compliant vehicle.
UltraGauge 2.1.9 Update
2.1.9
-Custom Gauges:
--Allow Read only gauges to be activated
--Misc Text cleanup
2.1.7
-Fixed issue related to not displaying Calibration screen
-Fixed issue related to Digital Custom Gauges not displaying values below 0 when Min/Max both set to 0.
-New Blue Adapter Update (Version 1.22 Feb 25 2018)
-Bluetooth Connection Improvements
2.1.6
--Resolved issue related to Min/Max Digital Gauge fix in 2.1.5
2.1.5
--Fix related to ios 11.x suport
--Corner case where Bluetooth connection was dropping immediately after connecting
--Additional fixes:
--When Diesel box was checked (versus Gas) on Vehicle info screen, it was later erroneously reporting that it was set back to Gas.
--Digital Gauges were not honoring the Min/Max values being set for a particular gauge
--When creating a Custom Gauge (MGauge), there were cases where converting a Gauge from UG MX format would cause the Custom Gauge screen to exit
More