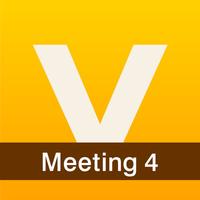 V-CUBE Meeting 4
Free Get
V-CUBE Meeting 4 Description
V-CUBE Meeting 4 enables Web Conference and Paperless Conference by iPad/iPhone.
Using iPad/iPhone will not only enable use of Web Conferencing service anytime
anywhere, it will also enable the use of Paperless type of conference
(no more useless printing, and view and share files with everyone in meeting).


Features:
- Send/receive (VoIP) video and audio (sending is arbitrarily use)
- View and Edit documents in real-time
- Upload photos taken by camera, image files, document files
- Text Chat Interaction
- View a Shared PC desktop


How to use:
- Login with ID and Password of ASP Service "V-CUBE Meeting" or "V-CUBE Docs"
- When invited by e-mail, you can also enter room by clicking URL in
invitation mail.


Notes:
*"V-CUBE Meeting" or "V-CUBE Docs" account required (provided by
V-cube, Inc. at customercare@vcube.com)
*V-cube recommends WiFi for comfortable use.
*V-cube recommends a monthly unlimited 3G network plan if used over a 3G
network. (please consult with your data carrier for any international or roaming
rates)
*This application is copyrighted by V-cube, Inc.
*V-cube is not responsible for any incurred charges from this
application, unreliable data connection or application performance.
V-CUBE Meeting 4 2.7.5 Update
miscellaneous improvements
More
More Information
Language:

English

Japanese

More