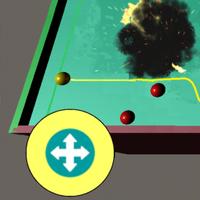 wAcross : Quick Thinking Game
Free Get
Screenshots for iPhone
More Screenshots for iPad
wAcross : Quick Thinking Game Description
This simple and exciting game makes it fun to exercise and improve your mental agility.

Based on my favorite schoolyard game British bulldog, some may recognize it as Sharks & Minnows.

The unique joystick Controls the player by dragging...
Drag the joystick farther from center to go faster, let go of the joystick and coast to a stop. If your finger/thumb venture too far from joystick center, you'll feel a reminder nudge.

Robotic Enemy pursue the player and when tagged, watch out, KABOOM! Cross to the other side, and the Enemy get what's coming to them! Rotating Batters stir the field to create an ever-changing landscape.

Recognition, Reaction and Adaptation. You Scan, Plan then change plans with the changing threats and conditions. Put your survival skills to the test!

Your mind will flow with the ever changing landscape enabling agility and control of your player to a surprising degree. You'll see beauty in your fight or flight patterns, and experience feelings of actual survival situations.

The SLOW Button can be held down to slow time, so your normal Mental Agility becomes "relatively" superstar quality. Use SLOW to learn the game and escape the impossible. It will cost some Bonus Crossing points to use SLOW but may be worth it.

These skills can be brought to a real playing field to help improve your mental performance whether its a ball game, game of tag, or another video game.

Suitable for players from ages 2 to 122.
wAcross : Quick Thinking Game 8 Update
Quicker joystick response; Scoring and level promotion improvements;Joystick nudger addition.
More