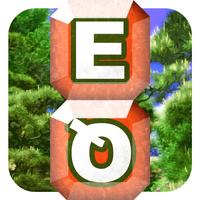 Wordominos
Free Get
Screenshots for iPhone
More Screenshots for iPad
Wordominos Description
A gem of a title -- a falling block puzzle game with the added thrill
of a vocabulary game! A chance for native and non-native
speakers alike to encounter more than 80,000 vocabulary words
(when using iPad) -- thanks to "??" SuperDominoes
(the almighty wildcard)!
Form new words, learn their meanings, and increase your knowledge!

Challenge yourself anytime! Make the most of your spare
moments by purely aiming for a high score, or to train
your brain and educate yourself.

The words you build in a game are recorded, so you
can look up their meaning anytime.
Create a list of your own vocabulary words.


- How to Play -

Rotate each falling domino, move it left and right, and
drop it down the grid to form vocabulary words of 4 letters or more.

"But you have to build your words in the direction the first letter is facing!"
That's the game's cardinal rule.
It doesn't matter which way the subsequent letters are facing.

When you form a word, all the dominoes making
up the word disappear, and you earn points.
When the dominoes pile up to the top, it's Game Over.
So be sure to make the dominoes disappear.

Spots where you can form words with the current falling domino will flash.
Even if you don't know the words or aren't sure of their spelling, you can still
form them by intuition!

- Types of Dominoes -

There are 13 different types of dominoes made up of two alphabet letters.
In addition, there is one more type: SuperDominoes, which can become any alphabet.

The appearances and combinations of the 13 types of dominoes are finely tuned, based on probabilities drawn from vast statistical data.

So you can build words naturally. But if you place the letters carelessly,
you'll have a hard time.

SuperDominoes appear more often as your situation becomes more difficult,
so they give you a chance to turn things around.

When you make a word without using SuperDominoes,
the completed word is shown in the Record screen along with
the number of times it has been formed.

- How to Control -

There are 3 basic operations.

・ Tap to rotate a domino
・ Drag to move a domino
・ Touch and hold to drop a domino

You can operate anywhere on the screen, so you can move a domino by
tracing your finger left or right anywhere on the screen.
Play the game comfortably with one hand.

There are 4 special operations.

・You can pull out the Hint screen by dragging from the right edge of the screen to the middle of the screen.
When you move dominoes with the Hint screen pulled out, hints on where you can drop them are randomly displayed -- a particularly useful feature for non-native speakers.
・When a Hold Frame appears on the left side of the screen,
touch it to collect falling dominoes and store them for later use.
・When a completed word is displayed, you can look up its meaning from the iOS built-in dictionary by tapping on it.
・During the game, you can the flick ad space up and down to
move it. (PiCoPi AdFlick function)

You can set the rotation direction and the drag amount at the title screen.
(It is recommended that you increase the drag amount for one-handed play.)

In the Record screen, you can see the words you formed by points (number of letters) and alphabetical order.
・Tap on a word to display the iOS built-in dictionary.
・Move between pages by dragging or flicking left or right.
(There are 4 levels of the number of pages turned based on speed of the flick.)


- Others -

Supports all resolutions of current iPad, iPhone, and iPod touch.
Completely compatible with iOS 5 and iOS 6!

The game design is different for each screen resolution!

Think carefully on the iPad. Or watch the game unfold thrillingly on the iPhone and iPod touch.
You can enjoy slightly different versions of the game on the 3.5-inch and 4-inch iPhone and iPod touch.
If you have three types of iOS devices, you can enjoy the game 3x!

As a PiCoPi special feature, you can switch between the normal BGM, a chiptune-like soundtrack, and a silent mode. Choose whichever suits you best!