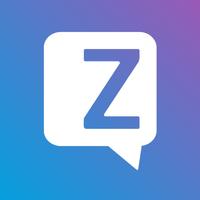 Zingle Business App
Free Get
Zingle Business App Description
Everyone is messaging; your business should, too.

The Zingle Business App helps businesses communicate with customers via texting and other mobile messaging channels.

Zingle allows businesses to engage, support, and respond to customers in the new mobile messaging era. Zingle's real-time enterprise platform works on any device and provides all the tools to deliver an instant, actionable, and seamless customer service experience.

By combining the immediacy of chat with the flexibility of mobile, Zingle is enabling businesses to provide the "instant gratification" service that their customers increasingly expect across a number of industries including hospitality, food and bev, parking, events, and many more.

Features include:
• Create, view, receive, and reply to 2-way conversations in real-time
• Seamlessly personalize messaging with templates and custom fields
• Manage all customer info with editable contacts and tags
• Quickly find any message or contact with search
• Easily manage many conversations with conversation searching
• Create important internal notes in any conversation
• Toggle between multiple accounts and services

The Zingle App is fully integrated with all Zingle products, including the Zingle web-based Dashboard, the Zingle Printer, and the Zingle API. All Zingle products are always in-sync across all devices.

About Zingle
Zingle pioneered the business messaging space in 2009 by being the first to offer business texting on its patented platform. Today over 1,000 businesses use Zingle, including Hyatt, Whole Foods, Marriott and ZipCar. Zingle is the only company to offer simple yet powerful technology like messaging workflow, analytics, integrations, and automations.
Zingle Business App 3.3.2 Update
- Calendar events are now visible in contact details. We can see what they're up to now.
- Fixed an issue that caused failed messages to appear as successful. Optimism is usually preferred but probably not in this case.
- Fixed a crash that could occur on app launch. Opening the app should be a safe space.
- Fixed an issue that could cause a noticeable delay in updates to contacts and new messages, especially when the app is already open and active. The app is now less bashful about keeping up with current affairs.
- Fixed an issue that broke the search button for a small number of users. The placebo effect is not very effective at finding things.
- Lots of fixes for small bugs that could cause overlapping/cropped text and generally undesirable wackiness.
More