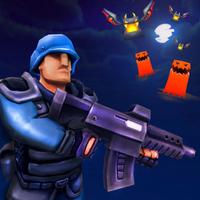 Zone X:Survival Hero
Free Get
Screenshots for iPhone
More Screenshots for iPad
Zone X:Survival Hero Description
It's apocalypse night, the lights are out, you can see the spooky scary skeletons in distance, frightening creatures are everywhere, and aliens are attacking our planet. Apocalypse is here and you are the only survival with an important duty: Survive the attacking waves in this alien shooter game, aim and shoot at targets and become the last man standing. While you are all alone in this shoot to kill action game, there are some boosters and power-ups, like a powerful nuclear bomb, that may come handy when you are surrounded by the attackers and invaders.
So, do you think you've got what it takes to be the last man standing in this apocalypse survival shooter game and enjoy endless shooting and running? If so, download Zone X for free, start to kill and survive, and finish the waves one by one.

The Apocalypse Night Has Never Been More Mysterious and Action
Zone X comes with a clean and neat design and the interface is so user-friendly and the gameplay is so easy to learn that you'll get the whole idea after taking down a few aliens and surviving a few waves. The on-screen virtual button enables you to move in any direction, and of course, aim and shoot in different directions as well. In each wave, a certain number of invaders attack you, and you need to kill all of them to survive. Once you shoot and kill an attacker (alien), you may be rewarded with several candies or power-ups including:
1. Nuclear Bomb: A giant explosion eliminating all the angry pumpkins at once
2. Shield: To make you stand against the orange Calabaza a little more
3. Pierce Bullet: Become a sniper shooter with a more powerful weapon
4. Multiple Bullet: Increases the fire rate
5. Bouncing Bullet: These bullets move like jigsaw puzzle in a never-ending spree
Once you get used to the gameplay and learn how to move around and survive the waves, you need to be fully focused on the gameplay and be fast and precise when it comes to aiming and shooting.
The wonderful environments and designs, surrounding and scary music and sound effects, engaging and addictive gameplay, a wide range of power-ups and booster to collect and different challenge to face are just a few reasons to fall in love with this apocalypse survival shooter game.

Zone X: Apocalypse Survival Shooter & Runner Main Features at a Glance:
- Clean and neat design with fresh and intuitive interface
- High-quality graphics with cool sound effects
- Smooth and easy to learn gameplay (hard to master)
- Addictive survival and alien shooter game
- Collect candies
- Different power-ups to use: Nuclear Bomb, Shield, Pierce Bullet, Multiple Bullet, and Bouncing Bullets
- Leaderboard feature to compete against family and friends
- Special Halloween theme and environment
- Offline mode
- Free to play
So, if you like playing survival shooter and runner games, then Zone X can easily become your best companion and you just want to survive as many waves as it takes to become the top player in the leaderboard.
Download Zone X, the free alien shooter game, and let us know about any bugs, questions, feature requests or any other suggestions.