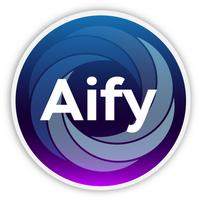 Aify
Free Get
Aify Description
Aify brings you a new world of Artificial Intelligence to help you understand your Instagram followers and to better manage and grow your business. With its suite of powerful AI features and management tools, Aify works with you to help you grow your business and brand.

Here are just a few features that Aify offers.

Questions - Aify knows how to pick out questions from comments and can suggest answers or even answer them for you. Now your followers will get the responses they deserve.

Sentiment - Aify lets you know if your followers like what you are posting and can tell you what your followers really think of your account.

SmallTalk - We all know there is no such thing as SmallTalk. A few words can make all the difference. We can reach out to your followers all day. Positive feedback to positive comments-all in real time. Nice touch!

Ads Plus - Targeting Ads is important. Aify's Dynamically-Targeted Ads and Curated Ads allow you to greatly improve advertising results. Aify lets you target your Ads dynamically while they are running and will use its AI algorithms to change the Ads Manager parameters in real-time – refocusing your Ads to reach the right audience.
Aify 2.2 Update
- Update AdsPlus feature. User can manual select targeting audiences, locations and languages when create ads campaign.
More