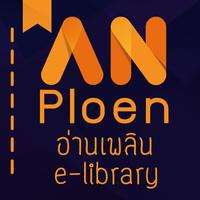 Anploen e-library
Free Get
Screenshots for iPhone
More Screenshots for iPad
Anploen e-library Description
"อ่านเพลิน" แอพพลิเคชั่นห้องสมุดออนไลน์ที่บรรจุหนังสือจำนวนมาก ให้ผู้รักการอ่านสามารถหยิบยืมหนังสือที่น่าสนใจไปนั่งอ่าน นอนอ่านเพลินๆ ผ่านอุปกรณ์ Mobile phone หรือ Tablet
"อ่านเพลิน" บรรจุหนังสือหลากหลายหมวด ไม่ว่าจะเป็น นิยาย เรื่องสั้น การศึกษา พัฒนาตนเอง สาระความรู้ ท่องเที่ยว การ์ตูนและอื่นๆ อีกมากมาย

ผู้ใช้งานสามารถยืมหนังสือเล่มใดก็ได้เพื่อนำไปอ่านในระยะเวลาที่กำหนดแล้วหนังสือเล่มนั้นจะถูกคืนผ่านระบบโดยอัติโนมัติเพื่อแบ่งปันให้ผู้อ่านคนต่อไป

พวกเราหวังว่า "อ่านเพลิน" จะเป็นหนึ่งในแรงผลักดันให้คนไทยทุกเพศทุกวัยได้อ่านหนังสือมากขึ้น หากชอบหรือถูกใจหนังสือเล่มใดเล่มหนึ่ง ขอให้ผู้ที่รักการอ่านช่วยซื้อหนังสือฉบับกระดาษเล่มนั้นจากร้านขายหนังสือ เพื่อเป็นกำลังใจให้สำนักพิมพ์และนักเขียนผลิตหนังสือดีๆ ออกมาถึงทุกคนได้อ่านกัน.

"Anploen", the e-library application with a huge collection of publications that lets readers borrow books or magazines to read at their own convenience via smartphone or Tablet.

Anploen stocks a wide variety of publications, ranging from fiction, short stories, education, self improvement, general knowledge, travel to comic and many more.

Users can borrow any for reading within a predetermined period of time. Once the publication is due, it will automatically be returned to the e-library for next borrowers.

The developer expects that Anploen will achieve in encouraging Thai readers of all genders and all ages to read more. If you found any publications to your liking, please support the publishers and writers by purchasing the hardcopy version from bookstore so that they can produce more good reads to our society.
Anploen e-library 1.1.1 Update