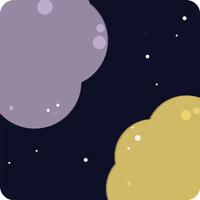 Apollo Null
Free Get
Screenshots for iPhone
More Screenshots for iPad
Apollo Null Description
Apollo Null is an adorable, original math puzzle game, where the goal is to balance planetary systems by reaching zero.

°°°°°°°°°°°°°°°°°°°°°°°°°°°°°°°°°°°°°°°°°°°°°°°°°°°°°°°°°°°°°°°

∅ Connect cute planets and cute asteroids with smooth lines to make clever math!
∅ Improve your everyday math skills so you can finally do your tax returns!
∅ Wrinkle your brain through more than 64 handcrafted levels! That's right, there's 65 handcrafted levels!
∅ Clear bonus objectives for than 0+ days of extra fun! That's right, I haven't counted it yet! But there's a lot!
∅ Not good at math? Don't worry, you can get a hint. Or two. Or five.
∅ Get a glimpse at your future in the emoji horoscopes created just for you!

°°°°°°°°°°°°°°°°°°°°°°°°°°°°°°°°°°°°°°°°°°°°°°°

HOW-TO-PLAY
∅ Each planet is a number, each asteroid is an operator*
∅ Connect two planets with an asteroid in-between to make math! For instance:
(3) {-} (3)
∅ Use all planets in a level while ending up at zero to clear a level!

*: Plus, minus, multiply etc.

°°°°°°°°°°°°°°°°°°°°°°°°°°°°°°°°°°°°°°°°°°°°°°°

∅ Designed and developed by Jesper Hyldahl Fogh
∅ Sound and music by Andreas Lagerstedt
Apollo Null 1.80 Update
FINAL UPDATE FOR APOLLO NULL
·······························································
Apollo Null will no longer receive any more updates, and so this update does a few things to make Apollo Null greater for everyone:
- Facebook support has been removed.
- Lives and hints are now infinite, so you can play as much as you want without any ads.
- Ads have been replaced by a 100% voluntary donation button.
Thanks to everyone who has played Apollo Null and shared it with friends and family! It's been a great journey.
To infinity and beyond,
Jesper
More