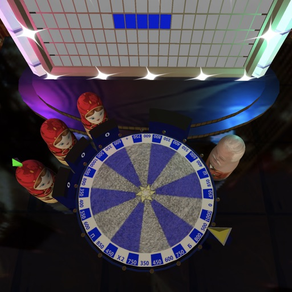 Lucky wheel fortune
With your house and furniture
Free
Offers In-App Purchases
23
for iPhone, iPad and more
Lucky wheel fortune Screenshots
About Lucky wheel fortune
Entertaining intellectual game.
You have your own house, furnish it with furniture and other items. Money is earned on the quiz show.

The game is played in three rounds. The word indicated on the scoreboard is guessed. The player spins the drum every turn. Sectors with a different number of points can fall on the drum, which the player will receive if he guesses the letter, or special sectors:
* Prize (П) - the player can choose whether to continue the game or drop out of it, but get a prize hidden in a black box. The prize is bidding, which can be any number. Also, instead of a black box, you can take points (the player chooses the amount himself). If the player refuses the prize, then it is considered that the player has a sector with 5000 points.
* Plus (+) - the player can open any letter on the score (if this letter occurs several times, then all are opened).
* Bankrupt (Б) - the points scored by the player burn out, the transition of the move.
* Chance (Ш) - we call any phone number, the correct or incorrect word is voiced, you can confirm or refuse.
* Zero (0) - the points scored do not burn out, but the move is transferred to another player.
* x2 - the points scored by the player are doubled if he correctly names the letter (if two letters, then tripled, if three - multiplied by 4, etc.)
Next, the player names the letter that he believes is present in the hidden word. If there is such a letter, then it opens on the scoreboard, and the player receives the dropped number of points (if there are several such letters, they all open and points are awarded for each), and can spin the drum again. With three correctly guessed letters in a row, the player has the right to choose from two boxes, one of which contains points, and the other is empty. If he guesses correctly, he gets points.
Super game. The player is offered a crossword puzzle of three words. The player has the right to open any letters of the leader's choice. If the word is guessed, then the points from the drum are counted with the points in the game and the victory is counted. If all the words are guessed, then 10000 is added to the points from the drum and the game.
Spin the drum and earn money to buy furniture for the show.
Good game!
What's New in the Latest Version 23
Last updated on Jul 27, 2023
Old Versions
optimization
corrected words
Version History
optimization
corrected words
English language added
Possibility to accumulate coins
Improved management
Добавлена возможность избежать сектора "банкрот".
Добавлены звуки и речь ведущего с возможностью отключения.
Добавлена возможность явно увеличить размер слов из задания.
Ходите по своему дому и участвуйте в викторине.
Добавлены слова.
Для Вас мы улучшили и доработали комнату (по ней теперь можно передвигаться, приобретать объекты интерьера) и студию в шоу.

Для Вас мы улучшили и доработали комнату (по ней теперь можно передвигаться, приобретать объекты интерьера) и студию в шоу. Улучшение.

Для Вас мы улучшили и доработали комнату (по ней теперь можно передвигаться, приобретать объекты интерьера) и студию в шоу.
Ура, теперь у Вас квартира, которую можно обставить мебелью на накопленный капитал в игре.
Улучшения
Возможность убирать рекламу
Lucky wheel fortune FAQ
Check the following list to see the minimum requirements of Lucky wheel fortune.
iPhone
Requires iOS 12.0 or later.
iPad
Requires iPadOS 12.0 or later.
iPod touch
Requires iOS 12.0 or later.
Lucky wheel fortune supports English, Russian
Lucky wheel fortune contains in-app purchases. Please check the pricing plan as below:
Related Videos
Latest introduction video of Lucky wheel fortune on iPhone
Lucky wheel fortune Alternative