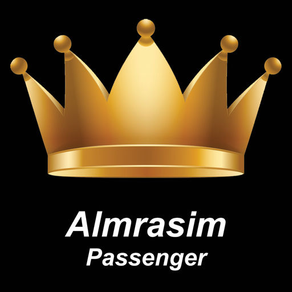 About المراسم
Almrasim is a free application for car reservations, the most favorite for residents of the Middle East and Africa"
Almrasim became the greatest name of the safe and vital ride with suitable prices for all members of the community can who download the application from Apple Store in less than a minute, and then can easily request your trip to the place you want "university, School, work, airport for family visits or to any entertainment designation with family members.
In order to get away from traffic and becoming busy in searching for the place to line up the car and delay your work or meeting to provide waiting time of looking for a taxi you can now get away from all these troubles, download the application and start now.
Book your trip easier with Almrasim at the time you want or book a trip for later.
The application allows you to communicate with family members and friends to place them where you are, your movement and the real time to reach them.
Almrasim also offers you many advantages, most importantly Reasonable prices for transportation provider. Saving effort in the search for a taxi.
Real-time access
Supporting choice through GPS, the category of car that you want to be for your trip. You have the option to know the approximate price of the trip when you select the place of arrival during the trip request.
Our application and through the GPS system on the application allows you to determine the location of your departure and the route that is suitable with less congestion and your arrival accurately.
The captain of Almrasim will pick you up in minutes while you are inside your home or work or wherever you are, without bothering to wait in the cold or under the hot sun or between the noise and congestion of the roads.
Follow us on the social networking sites to see the latest offers and will receive SMS messages permanently to know the discounts and benefits we offer you.
Almarasim service provides you with a car reservation around the clock.
The application will work with you in all the countries where we work without having to download the application again in the country where you are located.

المراسم الراكب
تطبيقمجانيلحجزالسياراتوالمفضلالاوللدىسكانمنطقهالشرقالاوسطوافريقيا "
* المراسمالاسمالكبيرللركوبالامنوالحيويبأسعارتناسبجميعافرادالمجتمعبإمكانتحميلالتطبيقمنغوغلبلايوابلستورخلالاقلمندقيقهوبعدهاتستطيعطلبرحلتكبكلسهولهللمكانالذيتريدهالىالجامعة "المدرسةا"لعمل "المطارللزياراتالعائليةالىايوجههترفيهيهمعافرادالأسرة.
* لكيتبتعدعنحركةالمرورالمزعجةوالانشغالفيالبحثعنالمكانلاصطفافالسيارةوتتأخرعنعملكاواجتماعكلتوفيروقتالانتظارللبحثعنسيارةاجرةبإمكانكالانانتبتعدعنجميعهذهالمتاعبحملالتطبيقوابداالان.
* .حجزرحلتكاصبحاسهلمعالمراسمفيالوقتالذيتريداولحجزرحلةلوقتلاحق.
* يوفرلكالتطبيقالتواصلمعافراداسرتكواصدقائكلوضعهمبمكانوجودكوحركتكوالوقتالحقيقيللوصولاليهم.
...المراسميوفرلكالعديدمنالمزايااهمها
* الاسعارالمعقولةللتنقلات.
* توفيرالجهدفيالبحثعنسيارةاجرة.
* الوصولبالوقتالحقيقي.
* منخلالدعمتحديدالمواقع.
* اختيارفئةالسيارةالتيترغبباستقلالهالرحلتك.
* لديكخيارلمعرفةالسعرالتقريبيمقابلالرحلةعندتحديدكمكانالوصولاثناءطلبالرحلة.
* تطبيقناومنخلالنظامتحديدالمواقعالعالمي GPSالموجودعلىالتطبيقيمكنكتحديدمكانانطلاقكوخطسيرالرحلةالانسبلعدمالازدحامووصولكبدقة.
* سيصلككابتنالمراسمبدقائقوانتبداخلمنزلكاوعملكاوايمكانتتواجدفيهدونعناءالانتظارفيالبرداوتحتاشعةالشمسالحارقةاوبينضجيجوازدحامالطرق.
* تابعناعلىمواقعالتواصلالاجتماعيلمعرفةاخرالعروضوسيصلكرسائلSMSبشكلدائملمعرفةالخصوماتوالمزاياالتينقدمهالك.
* توفرلكخدمةالمراسمحجزسيارةعلىمدارالساعة.
* التطبيقسيعملمعكفيجميعالدولالتينعملبهادونالحاجةلتحميلالتطبيقمرهاخرىفيالدولةالتيتتواجدبها.
* تحميلالتطبيقمتاحهبايلغةترغببها.
لمعرفةالمزيدزيارةموقعنا Almrasim.comاو علىالفيسبوك"المراسم".
* نتطلعلتقديمافضلالخدماتلكلانكتهمناوننتظرمعرفةرايكومقترحاتكلنعملبهاباستمرارمناجلراحتك.
* لاتبحثالاعنالاسمالكبير.
المراسم "لخدمتكدائما " المراسم "لخدمتكدائما "
What's New in the Latest Version 1.2
Last updated on Jan 8, 2019
Old Versions
المراسم FAQ
Check the following list to see the minimum requirements of المراسم.
المراسم supports English, Spanish, Tamil