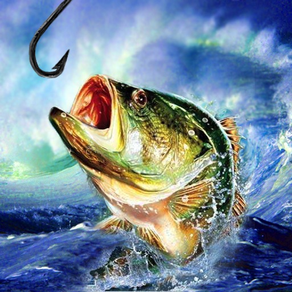 钓鱼冠军
4.1
for iPhone, iPod touch
About 钓鱼冠军
===限时免费了,为了庆祝疯狂砸电脑销量猛增==
1.添加了富有挑战性的成就系统。
2.添加了更多好看的深海鱼和其它道具。
这是一款钓鱼游戏,一共有100关,每一关的鱼都不尽相同,生命和时间双重模式,一定能让你体会到钓鱼的快乐,同时也能丰富您关于鱼的知识。游戏的故事背景是夏威夷海湾正在举行每年一度的世界钓鱼大赛,来自世界各地的钓鱼爱好者云集于此,各显身手,目的都是为了争夺钓鱼冠军的头衔。钓鱼冠军除了能享受在夏威夷海湾度假还,还能享受一次威尼斯之旅,你还等什么,拿起你的渔具,赶紧来夏威夷体验一下钓鱼比赛的快乐吧。

特点:

1.灵活的操作方式,让你更好的体验钓鱼的快乐。
2.每一关的鱼都不尽相同,视觉体验很好。
3.各种不同的道具增加了钓鱼的难度。

一周以后会升级下个版本,下个版本特性:
1.增加游戏暂停控制
2.增加本地排行
3.增加更多的道具
4.细节优化
这一切会免费送给您!不要等待,不要犹豫,jump in!

新版本特点:
1:增加一个带钻石的鱼,有500,200,和100的分值
2:增加一个随机出现的宝箱
3:增加一个可以控制鱼一会不会逃跑的道具
4:增加一个可以使鱼钩自动回去的道具,要小心了

Smart Hand

Visit us at http://www.nichuwocai.com
Follow us on Twitter : http://twitter.com/smart_hand
Like us on: http://www.facebook.com/mysmarthand
Sina weibo : http://weibo.com/smarthand
qq weibo: http://t.qq.com/iphone-smart-hand
What's New in the Latest Version 4.1
Last updated on Feb 19, 2017
Old Versions
This app has been updated by Apple to display the Apple Watch app icon.

bug fixed
Version History
This app has been updated by Apple to display the Apple Watch app icon.

bug fixed
bug fixed.

www.mysmarthand.com
bug fixed.

www.mysmarthand.com

sina weibo
http://weibo.com/smarthand

qq weibo
http://t.qq.com/iphone-smart-hand

Become a fan of Smart Hand on Facebook:
http://www.facebook.com/mysmarthand

Follow us on Twitter:
http://twitter.com/smart_hand
bug fxied.

sina weibo
http://weibo.com/smarthand

Become a fan of Smart Hand on Facebook:
http://www.facebook.com/mysmarthand

Follow us on Twitter:
http://twitter.com/smart_hand
1.add combo bonus when you fishing more then 2 fishes one time.一次钓到2条及以上的鱼获得连钓奖励。
2.bug fixed.
1.add 20 gate.新增20关
2.bug fixed.

http://twitter.com/smart_hand
1.replace gold fish with 3 new flash fish which appear randomly.
用3个发光的鱼替换之前随机出现的3个嘴里带钻石的黄金鱼
2.replace old christmas gift with new gift which appear randomly.such as diamond,iphone,gloves,etc。
用新的道具图片替换之前圣诞相关的道具图片,例如钻石,iphone,手套等,这些道具也是随机出现的。
1.每关随机出现一个圣诞礼物 Every gate randomly show a Christmas Gift
1.adjust target value
2.bug fixed
1:add a kind of fish which hava a diamond values for 500,200,100 score
2:add a chest which random come up,got it will hava a surprise
3:add a props called fish food which can make fish don't run away for a while
4:add a props which can make your hook return back
5:add a props which can reduce your score,be careful
6:add a props which hava zero score,be careful

1:增加一个带钻石的鱼,有500,200,和100的分值
2:增加一个随机出现的宝箱
3:增加一个可以控制鱼一会不会逃跑的道具
4:增加一个可以使鱼钩自动回去的道具,要小心了
5:增加一个减分的道具
6:增加一个汉堡道具,可以加时间

next version will soon come up and will hava more funny props
Fish can run away auto
加入鱼的智能逃跑
钓鱼冠军 FAQ
Check the following list to see the minimum requirements of 钓鱼冠军.
iPhone
Requires iOS 6.0 or later.
iPod touch
Requires iOS 6.0 or later.
钓鱼冠军 supports English, Simplified Chinese