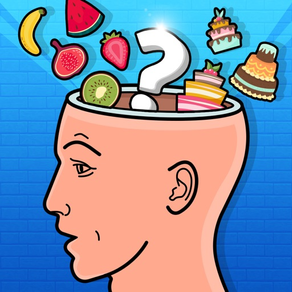 2 Pic 1 Word : Brain Puzzle
Word Quiz Puzzle Game
Free
Offers In-App Purchases
1.0
for iPhone, iPad and more
2 Pic 1 Word : Brain Puzzle Screenshots
About 2 Pic 1 Word : Brain Puzzle
If you love brain-training games, here we come with brand new brain-test puzzles, tricky fun riddles, and relaxing puzzle games. In this puzzledom brain plus game, you can keep your brain active by solving puzzles and relaxing. You can also go on a puzzle adventure to put your brain to the test.

We combined trivia crash, tricky puzzles, quiz games, brain puzzles, and brain games.
Enter the world of tricky brain teasers to "brain it on!" This brain-exercise game comes with a brain story and logic riddles to solve. Level games involving mind puzzles and brain games necessitate a large brain.
Picture-word games are available from Almost Impossible Picture Master. Be the judge in fun games for teens and be a pic-to-word picture master while relaxing. The coolest game for guessing partner players is Guess the word from pictures you get in each level.

A funny and simple brain test and brain wash game is a clever game that combines the idiot test and brainstorm riddles to brainit. Help me by playing flashbacks of tricky fun riddles: tricky brain puzzles are an easy brain test and brainteaser.

Genius Brains Puzzle Characteristics:
-Plenty of levels with tricky and crazy riddles
-Cool graphics, animations, and soothing sound effects Easy to complex gameplay, suits all age players
-Mystery solving and clue hunt levels
-Develop brain skills and IQ playing great game
-If you say "Help me!" our hint system helps you out Each level is unique and give healthy mind training
-Find level complex? Use clues to reveal the letters
-Funny puzzles and riddles for brain training
-Brain teaser humor in every level
-Play offline without internet
-Nowifi riddle
Addictive and relaxing gameplay

Riddles in English with pictures are very popular these days for improving your IQ. Brain hunters and probably impossible test funny games are free to play and relaxing. Guess the full word in the impossible letter game.

The Picstoword Mystery Game is a game to help you become a "detective" of a puzzle lab and have a word blast in this word seeker game.

In our most popular brainwash game, we offer free mind games to crack the mystery. Boost your brain power when you solve tricky questions and trivia. Solve hundreds of logic puzzles in a brainly manner and give mind-blowingly impossible answers in smart games.

Give stupid tests in IQ games to check your riddle-solving and common sense. Prepare to brain out in brainy puzzle and brain teaser games for a fantastic brain washing experience. These mind-washing and mind-test games are really creative and unique among cool brain-tests and brain-teasers. Mind-blowing easy games are free IQ games that can take an idiot test to make you smart and a master of riddles.

Thinking games make you think smart as you solve an unpredictable riddle. You can give the moron test, stupid test, and idiot test all at once to become a real smart person. The trivia crack and dumb test game gives you a chance to be the king of riddle masters. Crush these puzzle games and be the royal king of brains!

Beat the hard puzzle games as you solve riddles with pictures and move forward to find logic in lost logic puzzles. Think outside of the box and tease

your mind with crazy puzzles and riddles. Clever solutions will blow your brain and surprise you. variety of puzzles and art riddles to increase brainpower and IQ.

Use clues or hints to take help from the "help me" desk whenever you're stuck in the tricky brain test. Uncover hidden secrets by playing a funny brainwash and tricky riddle game. With this puzzle game, you can take a break from your brain and relax your mind.

Explore the word blast in the Pictowords game and judge letters for riddles on judgement day!
What's New in the Latest Version 1.0
Last updated on Jan 18, 2023
2 Pic 1 Word : Brain Puzzle FAQ
Check the following list to see the minimum requirements of 2 Pic 1 Word : Brain Puzzle.
iPhone
Requires iOS 11.0 or later.
iPad
Requires iPadOS 11.0 or later.
iPod touch
Requires iOS 11.0 or later.
2 Pic 1 Word : Brain Puzzle supports English
2 Pic 1 Word : Brain Puzzle contains in-app purchases. Please check the pricing plan as below:
2 Pic 1 Word : Brain Puzzle Alternative