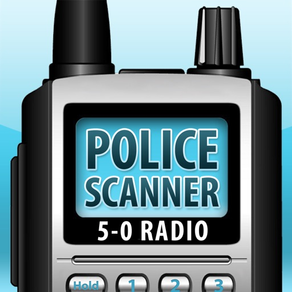 5-0 Radio Police Scanner
Live fire, air & police radio
Free
Offers In-App Purchases
55.0.0
for iPhone, iPad and more
5-0 Radio Police Scanner Screenshots
About 5-0 Radio Police Scanner
The largest collection of live police, firefighter, aircraft, railroad, emergency, news, and ham radios. Be the first to know about weather, news, and crime updates.

Thanks to our fans for making 5-0 Radio the #1 most downloaded police scanner app on the market. This app is one of top 100 most downloaded iOS apps since 2009.

Features
======
- New "Feeds with Active Alerts" feature that shows you feeds with interesting on-going activity and breaking news happening right now along with a description of the alert, breaking info, location, and feed.
- Listen to feeds in the background. You can run other apps while listening to the police. Pause the feeds via the media controls on your device.
- Automatically attempts to reconnect the feed if you lose the connection.
- Listen to feeds on your desktop/laptop computer. Email yourself a link to the feed, and open that link on your browser or with your favorite mp3 player.
- Ability to add custom feeds
- Chat with other users
- The web browser also automatically detects feeds and integrates it with the radio. Now you can add feeds from the web by simply tapping on the feed's link via our browser.
- Share feeds with your friends by email. They do not need to buy this app to listen with you. They can listen in with any device that has a web browser.
- Worldwide coverage. Listen to feeds from the United States, Canada, Australia and more. Our app is always expanding and looking for new police radios to tap into.
- List scanners by county. Don't just list all feeds in a state, get only the ones that are from your city/county.
- Integrated map that finds your location and the location of the feed. Now you can find where the action is happening and follow along.
- Built-in police/EMS/fire/military codes and phonetic alphabet for easy interpretation. Good for any beginners who do not have the proper training and have trouble remembering what the codes mean.
- Save your favorites to the front screen of the app for quick one-tap access.
- This app will dynamically grab a new list of sources so that you will always be the first to get any new police feeds out there.
- See the popularity of each feed. Each feed lists the number of listeners who are following the action along with you.
- Choose new skins or make your own. Skins can be any photo you choose from your photos library.
- New police feeds and others are added on an hourly basis, so keep checking if we added yours recently.

Upgrade to 5-0 Radio Pro to remove ads, add even more feeds, and new features.

Legality
======
It is legal in most countries to listen to police feeds. However, it is illegal in some places to use this app to aid in the commission of a crime or to pose as a police officer when you are not. It may also be illegal to use it while driving. Please consult your local laws before using this app outside of your home.

Is it fake?
=======
It's very real. Each feed comes from a person in that region with an expensive police scanner sharing the signal with you via the internet.

Real-time
=======
The delay between the real radio feed and this app is only a few seconds depending on buffering and internet speeds.

Recommendations
==============
Check out our website SmartestApple.com for other great apps from us

Privacy Policy: https://smartestapple.com/privacy

Terms of Use: https://www.apple.com/legal/internet-services/itunes/dev/stdeula/
What's New in the Latest Version 55.0.0
Last updated on Nov 26, 2023
Old Versions
Version History
Significantly reduced the amount of ads shown for the free version. (Optional) Try out the Pro version of 5-0 Radio if you want to remove all ads.
A free trial for 5-0 Radio Pro is now available
Optimizations for the newest iOS
Various bug fixes and station list updates
Adding new feeds every day
Performance fixes and new feeds added daily
New feeds are added daily
Improved playback performance
Updated for compatibility with the latest iOS. New graphics changes. Automatically retries to connect to a server even when it wasn't able to in the first attempt. You can change the retry rate in the app's settings.
Fixed a bug that caused the app to not work properly on an older iOS
Fixed a bug where the background image chosen sometimes did not save or was in the wrong orientation. Also added measures to reduce echoing.
iOS 14 updates. Check out the new backgrounds page in the Extra Feeds section to add a new background to your app to change it up.
You can now auto-open to a certain page or feed when you open the app. Choose which page/feed you want to open in the Settings page.
Updated feed list. Updated a few graphics.
Fixed a bug where the app might stop playing after a while
Added new New York City Mutual Aid Response feed to listen to the live audio stream of first responders in NYC dealing with the current pandemic. Made the tabbed buttons more visible.
- Fixed non-scanner radio feeds
- Dark Mode is now available
- App is now better at restarting the feed when disconnected. The audio will restart if you're on the player screen (the one with the play button) when disconnected. It will still work even if the app is placed in the background. If you're on another screen, such as a menu, the audio will not restart if you're disconnected for a long period of time. This should fix the issue where the feeds disconnect after a few minutes when on the cellular network.
The "Extra Feeds" link in the main menu should now correctly direct you to all the extra feeds not found in the non-Pro version of 5-0 Radio. We fixed a bug where extra feeds and extra features weren't being shown after upgrading to 5-0 Radio Pro.
5-0 Radio Police Scanner FAQ
Check the following list to see the minimum requirements of 5-0 Radio Police Scanner.
iPhone
Requires iOS 11.0 or later.
iPad
Requires iPadOS 11.0 or later.
iPod touch
Requires iOS 11.0 or later.
5-0 Radio Police Scanner supports English, Catalan, Czech, Danish, Dutch, Finnish, French, German, Greek, Hebrew, Hungarian, Indonesian, Italian, Japanese, Korean, Norwegian Bokmål, Polish, Portuguese, Romanian, Russian, Simplified Chinese, Slovak, Spanish, Swedish, Traditional Chinese, Turkish
5-0 Radio Police Scanner contains in-app purchases. Please check the pricing plan as below:
5-0 Radio Pro Police Scanner
$39.99
5-0 Radio Pro Police Scanner
$2.99
5-0 Radio Pro Police Scanner
$9.99
5-0 Radio Police Scanner Alternative