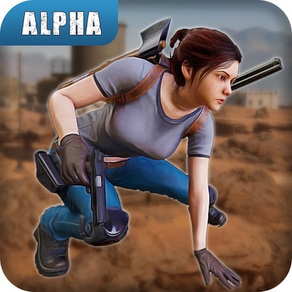 Alpha Soldier Strikes Again
1.1
for iPhone, iPad and more
Alpha Soldier Strikes Again Screenshots
About Alpha Soldier Strikes Again
Alpha is a US Strike Force special agent, who fights for justice of world. The game starts in the far area of us desert, where terrorist army attack the area, and follows the threat to world. So, alpha soldier had to strikes again, to gain the hold of us desert area to completely restore the justice in world. The mission is literally impossible to execute, as terrorist are loaded with modern weapon, as well as deadly grenade.
Alpha Strikes Again is a name of secrete mission instantiate by us Special Forces, and head by top government official to restore justices. US action spy Strikes Again is the last hope of the army forces, with Alpha Secret Agent.
Alpha Soldier Strikes Again is a first person shooting game. The major power of the world is gathering to fight against world terror but in modern world war terrorist merge as a single group of evil soldier. So world lender seceded to initiate a secret mission of war against these soldiers.
These evil soldiers occupied the large area of northern us desert town; you have to clear this as a gorilla warrior, play as a silent player, eliminate all soldiers and take bake the area.
Do you like FPS games this is a best first-person action shooting game! The US Strike Force provides you with all types of modern war weapon and equipment's to make you best against terrorist. You will be an alpha shooter in next levels but shooting in different hurdles and terrible hindrance points, you accurately identify the target, quickly destroy the enemy. Once you start shooting, the enemy will know your presence, search for you everywhere, and attack you on the search. Jump in the heat of battle and push your survival skills to the limit!
Game Mode:
• FPS mode open area fighting
• Sniper mode for real killing
• No weapon mode
• Premium weapon mode
• Low health mode
• Grande mode
• Escape mode
Game Controller:
• Use joystick to move player.
• Use grenade button to throw it
• Use zoom button for zooming weapon
• Use switch button for swapping weapon
• Just aim to solider and gun will auto fire
Get ready to shoot & kill in this thrilling free FPS 3D action packed alpha soldier strikes again incredible game. This is a special ops mission of evil soldier assassination that will let you experience & use battle survival & gun shooting skills in intense & eventful war environment. You are the best army shooter of the country so be a military commando army soldier super hero who has to hold aim & target in this ultimate silent killer special ops shooting mission.
Game Features:
1. Realistic 3D environment, high-quality 3D graphics
2. AK47, MP5, M4 rifles, Shotgun, Sniper rifles
3. Challenging missions
4. Face challenges and improve your shooting skills
5. Play anytime, anywhere
What are you waiting for, let's take a journey and start killing, eliminating the entire evil soldier. From the M4 Rifle to AK47 and guns, as you have access to a variety of light and heavy weapons, as well as powerful grenade too! In the battle you will be sent to different locations to perform the difficult survival tasks.
What's New in the Latest Version 1.1
Last updated on May 3, 2019
Old Versions
Enjoy this Alpha soldier strike like FPS shooting game.
Improved game play.
Remove Bugs.
Version History
Enjoy this Alpha soldier strike like FPS shooting game.
Improved game play.
Remove Bugs.
Alpha Soldier Strikes Again FAQ
Check the following list to see the minimum requirements of Alpha Soldier Strikes Again.
iPhone
Requires iOS 7.0 or later.
iPad
Requires iPadOS 7.0 or later.
iPod touch
Requires iOS 7.0 or later.
Alpha Soldier Strikes Again supports English
Alpha Soldier Strikes Again Alternative