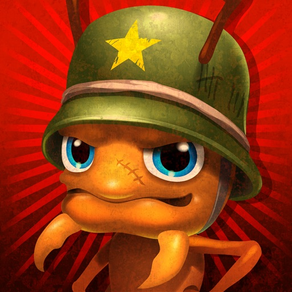 Anthill
4.2
for iPhone, iPad and more
About Anthill
@ GAME OF THE WEEK! @

The best game on the App Store just got even better! Due to popular demand, we've added the new 'Antology' campaign. Eight new nail-biting levels and an Endless Mayhem mode!

@@@@@

AWARDS:

- Anthill has been selected as iPad Game of the Week!
- Anthill has made the Quality Index Top 10 list!

REVIEWS:

"A must-have." - slidetoplay.com, 4/4

"Strategy done right." - 148apps.com, 4.5/5

"…the execution is amazingly fluid and perfectly suited to iOS." — iFanzine, 4.5/5

"…it's hard to not call it one of the best, if not the best line drawing TD title available for the iOS." — the-app-shack.com, 10/10

"…a total blast!" — unboundgamer.com, 9/10

Featured on thegametrail.com! Thanks guys!

@@@@@

FOR QUEEN AND COLONY!

Join the ranks of Anthill, a tactical trail defense game based on the real-world behavior of ants. The award-winning user interface enables you to draw pheromone trails to direct your troops, moving streams of ants rather than individuals.

Engage in the mission to protect your hill as wave upon wave of enemy bugs are thrown at you. Don't wait, join the colony today!

EAT WHAT YOU KILL
Take down a bug with your soldiers, then direct your workers to bring back the carcass for dinner - yum!

SURGICAL STRIKES
Simply tap the screen to send out bomber ants to take out those pesky ladybugs. Satisfaction guaranteed!

UPGRADES! UPGRADES! UPGRADES!
Buy permanent upgrades for your troops! Turn your bombers into carpet bombers, inspire courage in your workers, and make your soldiers more brutal. Boo-ya!

UNIVERSAL APP
Buy once, use for both your iPad and iPhone! We don't charge double for the same game.

@@@@@

QUOTES FROM THE FORUMS:

"…It the kind of game that grabs you and doesn't let go untill you can't stay awake anymore and the ipod touch slips out of your sweaty hands and falls on the floor."
— eugekava

"This is a really great TD game that feels so different from the rest. It oozes with charm and personality while having a top notch gameplay! It's frantic, fast paced but most of all fun! That's all, go for it guys you won't regret it :)"
— killercow

"It truly is a unique and fun change to the genre (...), and well worth the money."
— paul hendricks

@@@@@

With close to 40 exciting missions, beautiful surroundings, dozens of different enemies and many days of gameplay, you will love your queen and colony!

Compatible with iPhone 3GS and newer, 3rd generation iPod touch devices and all iPad models.

iPhone4: REQUIRES iOS 4.2 OR NEWER.

VISIT US: www.anthillgame.com
FOLLOW US: www.twitter.com/imageform
LIKE US: www.facebook.com/imageform
What's New in the Latest Version 4.2
Last updated on Sep 3, 2017
Old Versions
This app has been updated by Apple to display the Apple Watch app icon.

- Now contains 64-bit support.
- More scary creeps and ants can now be rendered at the same time.
- It used to be tricky to select trails on some devices. Not anymore! :)
Version History
This app has been updated by Apple to display the Apple Watch app icon.

- Now contains 64-bit support.
- More scary creeps and ants can now be rendered at the same time.
- It used to be tricky to select trails on some devices. Not anymore! :)
The new level pack, Antology, is here!
- 8 devilishly hard levels
- 1 new infinity mode

Antology is the natural sequel to the latest campaign, Temple of Bloom. We recommend that you play that before downloading Antology, since Temple of Bloom contains powerful upgrades for your ants. You'll need them! ;D
* "Product Not Available" while buying Temple of Bloom is FIXED. Get it now!

* Fixed a problem where stars gained by rating the game could get lost.
Improvements
* Four awesome new ant upgrades!
* Full iPhone 5 support
* Improved performance and reduced loading times
* Improved music quality
* Hold down the spawn button to quick-spawn ants

Temple of Bloom
* A new paid campaign
* Eight new levels in a brand new environment
* One new infinity level for those who enjoy a challenge
* Spiders! Aaaah, spiders!!!
* A lot more new enemies
Bugfix release:
- Fixes the crash directly after the logo screen.
- Other minor fixes.
* Added a new free campaign: The Expanse! The new campaign continues where the New Colony campaign left off. Get ready to battle rival anthills!

* Added several new enemy unit types.

* Added a new economical pickup: Milk Larvae. These give you food over time after being picked up, adding an extra layer of strategy.

* Performance fixes.
* Infinity mode! Survive as long as you can
as wave upon wave of enemies are thrown at you!
* Fixed performance problem in iOS 5
* Bug fixes
- Bugfix release -
* Fixes for a iPhone4 issue (see below)
* Other minor fixes

- Notes -
We have fixed several bugs that may have caused the problem where the whole screen was not visible on the iPhone 4. This affected only a very small number of iPhone 4 owners.

We have yet to get in contact with anyone who reported the problem, so PLEASE CONTACT US if this patch does not fix it. Thanks :)
* Reduced game size to < 20mb
Anthill FAQ
Anthill is available in regions other than the following restricted countries:
China
Anthill contains in-app purchases. Please check the pricing plan as below:
Check the following list to see the minimum requirements of Anthill.
iPhone
Requires iOS 6.1 or later.
iPad
Requires iPadOS 6.1 or later.
iPod touch
Requires iOS 6.1 or later.