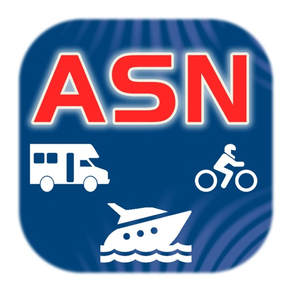 ASN
29
for iPhone, iPad and more
About ASN
A N T I -THEFT NAUTICAL SATELLITE
Anti theft & Anti Damage system:

ASN system is the correct assistant value for your boat, being able to give you, to a contained cost,
the calm that deserved from:

** Damages from atmospheric events:
The system is able to tell you: some presence 
of water on the boat and of the variation level
movement of the sea :"ROUGH SEA" in more, 
to notice the possible presence of water in the bilge..
** Damages from unwanted movements:
The system is able to notice you of possible unwanted 
solicitations.
** Theft: ASN is a nautical anti-theft system based on:
GPS: The system is able to notice about some movements  
of your boat out of a planned geographical perimeter 
( through GPS).
** Input contacts: it is endowed with two contact system 
to create many desired boat protection
circuit. (ex. protection: engine, open lockers , doors ecc..)
** Anti lifting: using a dedicated electronic ASN is able to  
detect boat lifting attempts; ensuring great
safety during boat storage period or out of water.
** Siren: thanks to the possibility to drive an output contact, 
detecting an attempted theft ASN can
eventually activate a siren connected to it .
*** Alarms ****
ASN provides real time communication alarms (based on gps position of your boat) ,directly to your mobile phone, by Voice Call and SMS to all the numbers in the ASN phone book
What's New in the Latest Version 29
Last updated on Feb 23, 2022
Old Versions
Version History
Nuova APP 2022: funzionalità SEMPLIFICATE e RIVISTE per semplificare l'utilizzo di ASN.
GESTIONE nuovo : ASN EASY 2022
** Gestione sensore temperatura
** Ottimizzazione gestione rubrica da Ver Fw 212
** Gestione informazioni sula ricarica batteria ASN
** ASN 21 **
ADD ON :
Gestione Sensori radio,
Gestione automatica uscita temporizzata
Gestione Orologio ASN HW 5
** Migliorata la comunicazione con ASN
** Gestione Sensori e Radiocomandi RADIO ASN
** Icona cambiata
GESTIONE ASN4 e sensori wireless Bluetooth
ASN4 MANAGEMENT and Bluetooth wireless sensors
**ADD TECH PASSWORD Function.**

Multilingual application: Italian and English
- Lingua internazionale Inglese -
English release
Automatic Update DB application
FOR ASN 190530
TECHNICAL USER AND BASIC USER
- Migliorie connessione BLE
- Upgrade ASN 3 features
Compatible with new ASN release
Migliorie funzionali e di prestazione nel protocollo comunicazione ASN
Miglioramenti grafici e di protocollo .
Aggiunte funzionalità specifiche per le IMBARCAZIONI e i MOTOCICLI
Sistema adattabile a qualsiasi mezzo!
- Migliorata connessione ASN
- Migliorie funzionali
*Protocollo di comunicazione migliorato
*Miglioramenti grafica
*Bug Fix
Protocol & Function Upgrade
ASN FAQ
Check the following list to see the minimum requirements of ASN.
iPhone
Requires iOS 11.0 or later.
iPad
Requires iPadOS 11.0 or later.
iPod touch
Requires iOS 11.0 or later.