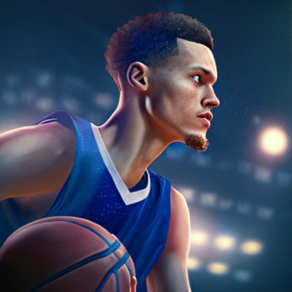 Astonishing Basketball Manager
coach, gm or sports star game?
Free
Offers In-App Purchases
3.6.1
for iPhone, iPad and more
Astonishing Basketball Manager Screenshots
About Astonishing Basketball Manager
Astonishing Basketball is the ultimate basketball manager game. Become the manager of your own basketball team and lead your players to the ultimate reward: becoming the best coach and winning the Basketball Cup! You can play offline or online, with no ads!

Main features:
-In-depth basketball manager game with a lot of cool stats.
-Unlimited saves with many modes, playable offline without ads
-Create your own star player with the new "My Franchise Player" career mode and the new College Basketball Cup!
-Player story mode with "The Prodigy", from star of the campus to Hall of Famer
-Many competitive online modes with daily and weekly events
-Manage your basketball arena, assistant coach, scouts and staff
-Narrative gameplay with a deep lore
-Community-created rosters and draft classes


Astonishing Basketball is not your usual sports simulation game. It's not only about stats and ratings. It's not just drafting prospects, trading players, exploring strategies and signing free agents, or building a dynasty. In Astonishing Basketball, you're writing your own GM life story with one goal in mind: win the Cup. But the road to victory is not an easy one!


*Play offline, whenever you want, wherever you want, as much as you want! Play the game on the road, slam dunk during your lunch break, or sign contracts between commercials. It's the ultimate basketball GM simulation!


*A living world
Astonishing Basketball features a simulated but living world. Fans are posting about the game and your brand new rookie. Players send you messages about their concerns or their contract. Or you might have to improvise what's for dinner when the team cook gets sick! And thanks to the brand new "Rivalry", discover the terrifying Regina Dargor. Nothing will stop her from crushing you and your team!


*You're the general manager! Step into the game, call for a timeout, and replace your tired veterans with some young talented players to dunk on the other team, or ask them to defend the paint more tightly! Adapt your strategy and coaching systems to feed your shooting guard more or prevent the other center from rebounding too much. All your choices as general manager have consequences and will decide of the victory or loss.


*The new training system makes it even more important to scout players from a multitude of universities, and draft the best of them to create the ultimate team! Don't forget to build your arena and add shops to attract more fans to the game. Review your tactics and rotation strategies and show the others who's the best manager.


*Follow the scoreboard, the rankings, and the reactions from the fans, Astonishing Basketball reporters and players. You can also post your statistics online to compare your performances to other GMs in our daily and weekly leaderboards!


*A fierce online competition
While the entire solo mode can be played offline, you can also decide to play online at any time, and participate in one of our many multiplayer modes! Try to become the King of Basketball in the Astonishing Contest and join a franchise of champions. Or try to impress others in one of the daily events like Rookie Friday. And if that's not your style, the Path of Legends let you experience exciting games and rewards in solo!


*Live incredible stories
As a coach and manager, you do have a life too! In Astonishing Basketball, you can take your team to a burger restaurant, help local associations, meet your favorite author, become a rock star and even marry the love of your life!


Train your players, from all-stars to drafted rookies, it's your job as manager to find the ones who have the potential to become legendary basketball stars and build a basketball dynasty with the best strategy. Download this game, it's a slam dunk!


Enjoy the game!


Join our Discord server: https://discord.astonishing-sports.app
What's New in the Latest Version 3.6.1
Last updated on Jun 4, 2023
Old Versions
You can now invite draft prospects to your facilities to have a chat and run a few tests. The ultimate way to evaluate a prospect!
We've added a thousand new player names to the game!
Bug fixes for expeditions, minor teams, the rivalry and popularity
Version History
You can now invite draft prospects to your facilities to have a chat and run a few tests. The ultimate way to evaluate a prospect!
We've added a thousand new player names to the game!
Bug fixes for expeditions, minor teams, the rivalry and popularity
The Museum update is here! Hire researchers and organized expeditions to send them all around the world. Survive the many perils and bring home the majestic artefacts of ancient basketball history!
Rosters have been updated!
A new difficulty level is now available
The HOF election process has been made more realistic
New options for custom leagues
Improvements for the stadium menu and the bleachers messages
-The franchise player mode has been much improved! A refined UI, doubled end-of-season contracts, better inbox, and the brand new Path of the MVP battle pass!
-To make things even better, we're introducing the shoe coins, so you can unlock your shoes while still improving your player. We've also released new models and new designs for every shoe!
-Legends Contest rosters will now be properly organized
-Timeshift V2 has been improved with a better selection UI
-Improved universities UI, standings UI, draft UI, high school and much more!
-Bug fix for abilities
The Legends Contest update is here! For the first time, see the result of the best game of the year, and celebrate the best players in the world in the Ultimate Duel!
Franchise player now have a special badge on their page
New random events \o/
New help sections
Bug fix for custom leagues' length
-The skills for your minor team coach have been improved, making them more powerful than ever!
-Injured players in your minor team will now heal regularly
-The transactions page now includes signed free agents and drafted prospects
-The UI for the franchise player mode has been improved!
-Improvements for minor teams and retired numbers
Introducing Timeshift V2: a new way to make in-game decisions and show your coaching skills!
It's now way easier to train your Prodigy!
New abilities are available for your franchise player!
Improved UI for the multiplayer screen
The awards screen will now display your best scoring season!
A new achievement related to rings has been added
Improved tutorial, lineup screen, Franchise player mode and custom leagues
Bug fixes for followers and scouts (thanks Moose and Andy!)
Celebrate great performances thanks to the new "Game's MVP" card in the post-game screen!
We all love stats, so the stats view is now available during games as well!
You will now receive a reminder for your university (Thanks Andy!)
New avatars for your front office members
Improved UI for custom leagues, player training and tasks
Bug fixes for minor team standings, The Prodigy, FA contracts and the awards screen
-Timeshift has been improved with new game situations
-We've improved some parts of the UI for the franchise player mode and skills!
-Oh and we've also improved the skills page for minor team coaches!
-The league will now celebrate your players' milestones!
-We have brand new default avatars!
-Basketball Cup parade messages have been improved and fixed. It's now clearer which ring you've earned!
-Bug fixes for high school players, parade messages, random events
The Rings update is here! Collect Basketball Cup rings and show off with style!
Make victory even better thanks to our new Basketball Cup Parades!
It's now cheaper to unlock features in the bleachers message creator.
The color picker has been improved. Show your true colors now!
You can now tap on a minor team record to see its current winning streak.
Custom leagues have been improved with new team rankings!
Many bugs have been fixed!
KATE has been upgraded with new powers. I mean, features.

The help section has been restructured, and now includes a search feature!
Your high school players will be featured in the draft more often
Improvements for custom leagues
Bug fixes for the Prodigy
You can now select the length of your custom league!
Defensive and offensive rebounds are now separate stats for your boxscore. This is for my favorite Discord nerds!
You can easily pick a portrait for your front office coaches now! Don't they look good?
Our new -5M button will make offering contracts faster than ever!
Bug fixes for scouts, the franchise player mode and power rankings
This is the All-Star update, with the new rosters you have all been waiting for! So, are you playing for Dallas or Phoenix now?
You've been waiting for it for a long time, custom leagues are now available! Invite your friends and organize your own tournaments!
Improved help for universities and the minor team
Meet Kate, your new AI assistant! She will help you build your team and make sure you don't miss anything important. We're still testing her, so don't worry if the feature is not available yet!
We're also testing a brand new help section to make your life easier!
Many of you wanted your franchise player to have a legacy. Consider this done now: your children will now keep their ancestors' shoes!
A few bug fixes for scouts and interviews
A brand new avatar picker for your minor team coach, allowing you to customize your staff even more!
Your scouts will now send you a report after the draft to tell you how accurate they've been.
Improved messages for transactions
The total of 3s scored in a player's career is now displayed
In franchise player mode, your new team will greet you!
Bug fixes for mods
UI fixes for various screens
Your players will now send you a message from time to time, sharing what's on their mind (basketball, hopefully)
Players might ask that you retire their number at your stadium (Thanks SJ!)
Trade rumors might now appear in your feed. How mysterious!
Teams in the HOF screen are now sorted by alphabetical order, with your team first.
Custom mod support has been improved
Teammates will spend less time attacking each other in the medias, and will instead share more love. Yep, that was a weird bug.
You can now unlock skills for your minor team coach. They have never been so badass!
You can now edit the color of your minor team. Make it yours they say!
We have new avatars for the members of your front office (and potential candidates!)
Many new bleacher messages have been added. And you will now be celebrated when you reach certain milestones!
A few UI fixes for standings and jersey sales
The new rosters are here \o/
It's now easier than ever to train your high school players.
Bug fixes for high school and mods
Tired of being a superstar? You can now retire as a coach in franchise player mode!
Gamescore is now a boxscore option \o/
Standings and rankings are now clearer to read than ever. Kind of magic, right?
The front office screen UI has been improved, just like the training facilities screen and the logo picker!
Prospects scouted by your university friends are now properly scouted and sorted in the list
Test your basketball IQ with our brand new feature! Check the active events screen (calendar icon) to give it a try!
You can now renew the contract of your minor leaguers
Universities now display how many University Cups they've won
As a franchise player you can now ask the team to renew the contract of a teammate!
You can now rename your high school players!
We've added a "Notes" feature in the settings, so you can keep your secrets safe in one place!
I know you've been waiting for it: you can now play a special game mode with your cards!
Bono and Didier have teamed up for a new amazing stadium shop!
Transactions are better than ever thanks to the new flavor texts (thank you Moose!)
Bug fixes for high school, game articles and the tutorial
You are bored at work when suddenly you get this strange email: you're offered the job of high school coach! Scout, train and coach the students of Greenville High School, and bring home the Swish Junior Trophy!
Improved franchise player UI. So shiny!
Improved contract management from the inbox (Thanks Moose!)
You can now send your superstar to the minor team (Thanks Baz!)
You can now trade players after the trade deadline in God Mode
Bug fix for Timeshift
The transactions page is finally here. Thanks to the community for their support, and please send feedback so I can improve it even more!
Timeshift has been improved, thanks to the input of Deniz!
Improved avatar edition
Improved tutorial
The awards screen will now display your number of MIPs trophy!
You can now play the Prodigy during your first season
Improvements for the dark mode. How scary!
Big men's fans, rejoice. The "Feed the center" strategy is now available in the front office!
You can now share a referral code with your friends so you both get training points!
As a franchise player, you can ask for a specific player to join your team! No guarantee the coach will listen to you though.
Improved UI for the inbox
Improved negotiation messages. Hopefully this will give more personality to your players!
You can now participate in the daily matchup with your franchise player!
"Points against" is now a boxscore option (for you, Bono)
You can now import custom draft classes even when you have a special configuration for your season
Small UI fixes and improvements
Astonishing Basketball Manager FAQ
Check the following list to see the minimum requirements of Astonishing Basketball Manager.
iPhone
Requires iOS 12.0 or later.
iPad
Requires iPadOS 12.0 or later.
iPod touch
Requires iOS 12.0 or later.
Astonishing Basketball Manager supports English
Astonishing Basketball Manager contains in-app purchases. Please check the pricing plan as below:
Epic Training Points Pack
$2.99
My Player - Training 90
$10.99
My Player - Training 50
$3.99
Skill Points - 3K Pack
$1.79
My Player - Training 80
$8.99
Skill Points - 10K Pack
$4.99
Astonishing Basketball Manager Alternative