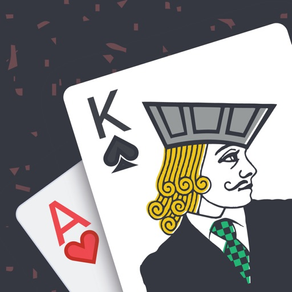 Blackjack & Card Counting Pro
Learn to Beat Blackjack
3.4.0
for iPhone, iPad and more
Blackjack & Card Counting Pro Screenshots
About Blackjack & Card Counting Pro
Blackjack Apprenticeship's "Blackjack & Card Counting Trainer Pro" is the best way to master card counting so you can bring down the house! Blackjack Apprenticeship trains card counters who have legally beaten casinos for millions with the same skills learned in this app!

******** Featured in: New York Times, CNN, ABC World News, Good Morning America, The Colbert Report, Huffington Post ********

Introducing the Blackjack trainer created and developed by Professional Blackjack players. Blackjackapprenticeship.com is the authority on teaching you how to play Blackjack like the pros. With over a decade of combined experience and millions of dollars won, the Pros here can help you take your game from amateur gambler, to winning professional.

Perhaps you just watched the movie "21", or you've read "Bringing Down the House", you are ready to take your Blackjack game to the next level. This is where Blackjack Trainer Pro comes in to help you up your game - without being an MIT student.

Blackjack Trainer Pro works hand in hand with Blackjackapprenticeship.com. We teach you step-by-step instruction on how to get the advantage over the house.

We don't give you multiple counting methods here because you only need one: HiLo. We help you hone one counting system and use it to its fullest potential. Be an expert, not a "Jack of all systems." That is the difference between a gambler and a winner.

Blackjack Trainer Pro helps you keep the Running count, shows you the True Count and guides you if you make a Basic Strategy or Deviation mistake. We want you to be on top of your game when you go into the casino. Practice at home, then run through a few shoes in your hotel room before hitting the tables to freshen up.

******** FEATURES ********

* Basic Strategy – Build your blackjack foundation
* Learn HiLo – the most efficient yet powerful card counting system known today
* Learn how to keep the Running count, convert to a true count and use that information to your advantage over the house.
* Strategy Deviations – We provide you with the charts you need to be successful
* Real Hand Signals – Use the same hand signals as you would in the casino: Hit, Stand, Double Down, Spit, and Surrender!
* Customize your game: Dealer Hits or Stands on soft 17, Resplit Aces, Double after Split, and Surrender are all rule options.

***** TESTIMONIES *****

"This app is easily worth the $$$, I just got back from Atlantic City and won enough to pay for my whole trip!" - JC

"I've been training with blackjackapprenticeship for 3 months now and am stoked to have their training go with me everywhere. I've used this app right before walking into the casino even." - LB

"This app is just what I was looking for! Not a silly blackjack game, but an actual Trainer!"

"This app combined with the videos on the website has improved my blackjack game 300%!"
What's New in the Latest Version 3.4.0
Last updated on Jul 18, 2022
Old Versions
Now tracks your number of rounds played.
Updated for latest iOS release.
Fixes small visual bug.
Version History
Now tracks your number of rounds played.
Updated for latest iOS release.
Fixes small visual bug.
Fixes an issue where when playing 2 hands and one of your hands is BlackJack and the dealer has BlackJack, dealer would not expose hole card and terminate play after insurance was decided on.
Makes showing the discard tray default.
Fixes issue where player would be asked for insurance on both hands when playing two hands.
Fixes a crash that occurred if you incorrectly chose to insure/not insure and opted to "Fix" it.
Fixed a bug with the Action Buttons and forced Light Mode on iOS13 devices utilizing Dark Mode.
Contains bug fix in the Counting Drill when user is dealt Hard 16 v 10.
Added "Reset" button to About Page.
As always, working hard to improve our App. A few bug fixes.
Addresses a reported issue which caused some users to crash when resuming a game.
Updated Charts
Various bug fixes and usability improvements.
1. Fixed case where DAS was off and it wrongly determined that you should have doubled after a split.
2. Ability through the info screen to reset a drill without having to enter the drill. This was in response to a report that a user had an apparent corrupted game file and could not resume the drill.
Fixed a bug where the app was dealing the same cards repeatedly.
Fixed an issue where Surrender button might not become available.
Fixed several other minor issues.
Buttons now available for making decisions!
Now able to see count tray when betting screen is present.
Able to configure so the dealer only deals splits, soft hands, etc. to better focus your training efforts.
Misc bug fixes.
Bug Fixes:
On pushes the player was paid out as if they won the hand
Backspace in the speed counting drill to change an incorrect entry was not working
If you had re split aces turned off, it would still tell you to split aces.
Bet amount would revert to previous value after shuffle
Fixed issue where Naturals were paid incorrectly in some cases
Fixes issue where Dealer would not show hole card immediately when it had a BlackJack with a 10 upcard.
Displays True Count on Betting Screen
Players hand automatically ends when player draws to 21
Bug Fixes
• Added option to show hand totals.
• Skips payout phase if betting is turned off.
• Increased dealing speed
• Fixed Gesture tutorial image error for surrender action
• Can now fix an incorrect insurance decision
• Various bug fixes
- Practice either 1 or 2 hands
- All-New User Interface
- Improved Achievements and Game Center integration
- Improved Speed Counting Drill
Small UI tweak for iPhoneX
Blackjack & Card Counting Pro FAQ
Blackjack & Card Counting Pro is available in regions other than the following restricted countries:
Gabon,Afghanistan,China,South Korea
Blackjack & Card Counting Pro supports English
Blackjack & Card Counting Pro contains in-app purchases. Please check the pricing plan as below:
Check the following list to see the minimum requirements of Blackjack & Card Counting Pro.
iPhone
Requires iOS 14.0 or later.
iPad
Requires iPadOS 14.0 or later.
iPod touch
Requires iOS 14.0 or later.
Blackjack & Card Counting Pro Alternative