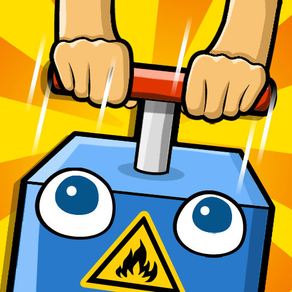 About Bomb Panic
"Hardest Game Ever" and "0.03s" titles are ranked overall #1 in more than 20 countries, you will definitely won't want to miss it's sequel, Bomb Panic.

From the developers that brought you the world #1 ranking games "Stupidness 2", "World Hardest Game: 0.02s" & "0.03 seconds", you won't want to miss this hottest action title, Bomb Panic!

Bomb Panic transforms the classic, childhood whack-a-mole game into a whole new intense experience.

Game rule is simple: Whack all the bombs as fast as you can. BEWARE though, the game can get seriously tricky with 15 unique types of bombs. Each type of bomb have their special abilities that test your reaction and reflex to the limit! Just when you think you are good at this game, it is Panic Time! During Panic Time, a whole new intense wave of bombs will overwhelm you and challenges your ability to judge and react in time. To add to the intensity, you can activate different weapons to help you clear the bombs faster.

Bomb Panic promises to bring you hours of adrenaline drain! Complete against the world for highest possible speed and reaction! Challenge your family and friends and find out who's got the fastest reflex on iPhone/iPod/iPad!

Featuring:
- 15 Unique Bombs
- 20 Challenging Stages
- Endless Mode
- 3 Powerful Weapons
- Includes OpenFeint so that you can compare your scores with your pals!
- Simple yet addictive gameplay!
- Enhanced sound effects!

Read a few testimonial from our gamers for 0.03 seconds, testimonials don't lie:

Amazing! - ★★★★★
by Lainie24 - 10 February 2011
"This game is very fun and very addictive, i Just had to play every level right then. I would definitely recommend this game! Its also a great test game and sometimes very tricky."

Great fun! - ★★★★★
by Nickram81 - 06 February 2011
"If you don't have this yet then pick it up. After you master it you will laugh at your friends as they struggle with it."

Fun - ★★★★★
by Sarah Childers - 01 February 2011
"I like competitive apps like this one. Seeing how good you are and watching yourself improve is a good pass time."

Great fun for young and old alike. - ★★★★★
by stevens321 - 03 January 2011
"Played with my little nephew. Always love to find games we can play competitively and lots of fun."

Love it - ★★★★★
by KaylaJade09 - 28 January 2011
"I love this game have it on my iPhone and now the iPad. I get stuck on some levels and just have my friends beat them. Turns into a group competition. LOVE IT ! !"

So stupid but brill ! Nuf sed - ★★★★★
by Mmmm cupcakes!! - 29 May 2011
"Amazing it's so addictive and clever! Just finished and gonna reset best game ever and sooo clever !!!!!! Great little game <3"

0.03 Seconds is ranked top 5 in more than 30 countries! You won't want to miss out it's sequel, Bomb Panic! Download Now!
What's New in the Latest Version 2.0
Last updated on Jul 28, 2012
Old Versions
Bug fixed on Memory Issue causing App to crash on startup.
Optimized graphics for smoother gameplay.
Increase weapon powers.
Changed icon.
Version History
Bug fixed on Memory Issue causing App to crash on startup.
Optimized graphics for smoother gameplay.
Increase weapon powers.
Changed icon.
Bomb Panic FAQ
Check the following list to see the minimum requirements of Bomb Panic.
Bomb Panic supports English