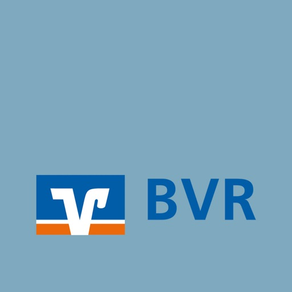 BVR Jahresberichte
1.16.2
for iPhone, iPad and more
BVR Jahresberichte Screenshots
About BVR Jahresberichte
BVR Jahresberichte App: Der Bundesverband der Deutschen Volksbanken und Raiffeisenbanken (BVR) ist der Spitzenverband der genossenschaftlichen Kreditwirtschaft in Deutschland. Mitglieder sind alle Genossenschaftsbanken. Dazu zählen: Volksbanken und Raiffeisenbanken, PSD-Banken, Sparda-Banken, Kirchenbanken, genossenschaftliche Sonderinstitute, genossenschaftliche Zentralbanken, Unternehmen der genossenschaftlichen FinanzGruppe, genossenschaftliche Prüfungsverbände.

In dieser App liefert der BVR Einblick in die wesentlichen bundesweit erscheinenden Jahresberichte des BVR:

a) den Jahresbericht der Volksbanken und Raiffeisenbanken,
b) den Bericht über das gesellschaftliche Engagement der Volksbanken und Raiffeisenbanken,
c) den Konsolidierten Jahresabschluss der Genossenschaftlichen FinanzGruppe Volksbanken Raiffeisenbanken
d) den Tätigkeitsbericht der Kundenbeschwerdestelle beim BVR.

Gekoppelt an den Erscheinungstermin des jeweiligen Berichts wird die jeweilige Publikation in komprimierter, digitaler und mobiler Form ab 2015 nun auch immer in dieser App verfügbar sein.
What's New in the Latest Version 1.16.2
Last updated on Aug 11, 2020
Old Versions
Hinweis auf neue Berichte
Version History
Hinweis auf neue Berichte
Tätigkeitsbericht 2019 hinzugefügt
Engagementbericht 2018 und Consolidated Financial Statements 2018 hinzugefügt
Konsolidierter Jahresabschluss 2018 hinzugefügt
Jahresbericht 2018 hinzugefügt
Tätigkeitsbericht 2018 hinzugefügt
Added Consolidated Financial Statements 2017
Engagementbericht 2017 hinzugefügt
Konsolidierter Jahresbericht 2017
Tätigkeitsbericht 2018 hinzugefügt
"Konsolidierter Jahresabschluss 2016" und "Consolidated Financial Statements 2016" hinzugefügt
Engagementbericht 2016 hinzugefügt
Jahresbericht 2016 hinzugefügt
Tätigkeitsbericht 2016 hinzugefügt
Englischen Bericht "Consolidated Financial Statements 2015" hinzugefügt
Added "Tätigkeitsbericht 2015"
Added "Engagementbericht 2015" and "Konsolidierter Jahresabschluss 2015"
Jahresbericht 2015 hinzugefügt
Tätigkeitsbericht 2014 hinzugefügt
neuer Report: BVR Consolidated Financial Statements 2014
Fehlerbehebung Jahresbericht 2014
BVR Jahresberichte FAQ
Check the following list to see the minimum requirements of BVR Jahresberichte.
iPhone
Requires iOS 9.3 or later.
iPad
Requires iPadOS 9.3 or later.
iPod touch
Requires iOS 9.3 or later.
BVR Jahresberichte supports English
BVR Jahresberichte Alternative