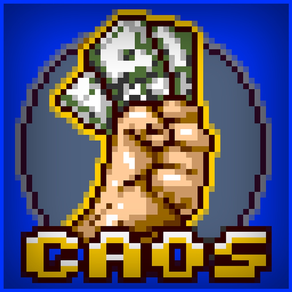 About Caos
Colombia in all the pixelated splendor of the 80's is your territory, destroy cities and generate "Chaos"! Who could stop you?

Caos ( Spanish for "Chaos") is an essential element of a project called "8 Bit Shrapnel", which encompasses two complementary works, this 10 level video game, available for mobile devices ( and as a one of a kind 80's full size arcade), and "8 Bit Shrapnel" a 9 minute live action short film. The two pieces are interwoven as they share the same leading characters and universe. Each of them can be experienced independently, but when combining them, the story expands and is assimilated by different processes, aiming to awaken a wide and lasting range of emotions in the players/viewers.
The short film, "8Bit Shrapnel", set in 1990, joins three kids on a fate laden Saturday in Bogotá, Colombia. Their carefree universe of Ninjas, Soccer, Videogames and RocknRoll, collides head on with an adult world at war, changing their perception of reality forever.
"Chaos", the video game, is a reinterpretation of a 1986 arcade hit game, where the player controlled monsters, whose mission was to reduce cities to rubble. At that time Pablo Escobar ( El Jefe in the game) and Gonzalo Rodríguez Gacha (El Mero), were wreaking havoc via terrorist activities against the civilian population. What better analogy to what was going on in reality than larger-than-life characters destroying cities? Specially if you look at it from a kid's perspective. That is the concept behind the development of "Chaos", a historic recollection, where each of the 10 levels represents a real terrorist attack perpetrated by the Medellín Cartel. The game has a surprising culmination as an unlikely final boss takes the stage, who will win?
Caos is rendered in beautiful 8 Bit style animation, illustrated by the Colombian artist Mierdinsky, catering to the nostalgia of the era, the programming and music was developed by Juan Esteban and David Cepeda at Baius Games, and it was created by Bogotá Digital Cinema.
What's New in the Latest Version 1.0.8
Last updated on Jun 20, 2018
Old Versions
Some bugs inside the game were fixed.
Version History
Some bugs inside the game were fixed.
Caos FAQ
Check the following list to see the minimum requirements of Caos.