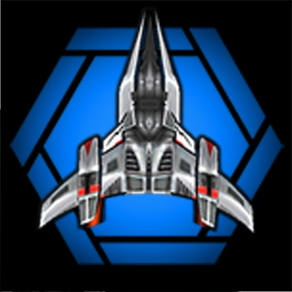 Celestial Assault: Reloaded
Free
Offers In-App Purchases
2.0.7
for iPhone, iPad and more
Celestial Assault: Reloaded Screenshots
About Celestial Assault: Reloaded
Celestial Assault Reloaded is a blend of retro style side scrolling space shooter and RPG.

The alien scourge is back and it's up to you to save humanity! Blast your way through the alien hordes, level-up your spaceship, unlock powerful weapons and skills to take on overwhelming odds in the most challenging and engaging side scrolling space shooter around, absolutely free!

As a complete re-imagination of the 2012 original, Celestial Assault: Reloaded delivers an engaging and unique challenge unlike any other space shooter.

Features:
- Awesome Shmup elements paying homage to great retro games like R-Type, Gradius and Life-force
- RPG style ship leveling
- 80 missions with 60+ unique enemies
- 8 challenging boss fights
- 3 additional difficulty levels for a more intense experience every time
- 7 Powerful Special Weapons and tons of upgrade able stats to help you on your quest to save the world
- Beautiful dynamic space scenes
- Awesome soundtrack
- Challenging and diverse game-play with extensive replay-ability
- Purchasable shortcuts and game add-ins
- global online leader board
What's New in the Latest Version 2.0.7
Last updated on Jul 21, 2017
Old Versions
This app has been updated by Apple to display the Apple Watch app icon.

- fix: HUD background occluded enemies in the top of the screen
- fix: jump in music volume when switching to game play
- fix: effects volume issues
- fix: leader board sign in now allows white space
- new: re-worked space backgrounds to incorporate planets and asteroids
- new: re-worked skill tree layout from cheapest to most costly
- new: added indicators on skill tiles that you can afford an attribute with current skill points
- new: improved lighting, textures and effects
Version History
This app has been updated by Apple to display the Apple Watch app icon.

- fix: HUD background occluded enemies in the top of the screen
- fix: jump in music volume when switching to game play
- fix: effects volume issues
- fix: leader board sign in now allows white space
- new: re-worked space backgrounds to incorporate planets and asteroids
- new: re-worked skill tree layout from cheapest to most costly
- new: added indicators on skill tiles that you can afford an attribute with current skill points
- new: improved lighting, textures and effects
- added: The top players in the mission map screen now have filters to display Weekly, Monthly and All Time, which displays the top 10 cumulative scores for the last 7 days, 30 days or all time.
- fixed: Flares on the Devastator stop firing after restarting a mission.
- fixed: The background in game-play appears as a large Fuchsia rectangle on some devices.
- fixed: only two cannons are firing when the Devastator cannons are upgraded to level 2 (which should fire 3 cannons)
- fixed: difficulty levels higher than challenging constantly appear locked in the difficulty selection dialog in version 2.0.2 even when you have completed the game on challenging
- fixed: blue shards are sometimes getting destroyed by the re-spawning player ship when the player is killed instead of allowing the player to recollect them
- added: display the signed in players' leader-board score on the mission map screen below the top 10 players
- fixed: removal of the difficulty limits on the max upgrade caps of several skills in version 2.0.1 inadvertently caused several skill values per upgraded unit to be reduced. As of 2.0.2 all values per unit are restored to normal.
added: New Ship "The Devastator" featuring:
- 50 % more health per block
- up to 6 front spread primary cannons
- up to 4 secondary missiles
- 4 wing turrets
- Corkscrew missiles
- Force Missiles
- Flares
- Laser Beam Nova
- added: Durability perk allows increasing health per block on both ships

Other fixes:
- huge performance optimizations
- various tuning adjustments
- various bug fixes
fixed: the homing upgrade on primary weapons no longer had any effect on the projectiles
fixed: the mission map menu controls are not properly snapping to the edge of the screen on certain aspect ratios
- fixed: game freezes after each mission when playing offline
- fixed: some projectiles fail to launch when firing the Plasma and Flame Nova after restarting a mission or loading a check point
- added a Homing upgrade to the Flame Nova skill
- added logic to automatically adapt the game to any devices Aspect Ratio
- Zig-zagging bonus ship now has a chance to drop green shards
- fixed some minor graphical issues
- fixed: turret damage skill is not affecting turret damage
- added "laser disruption" for force shield to increase the time an enemy laser is disabled when deflected by the force shield
- added "current status" on each skill row displaying the detailed value(s) for the skills current level
- added "maximum upgrade" to several skills that enables the player to increase the max upgrade limit beyond previous limits. Green Shards dropped by Bosses are consumed to upgrade these skill limits.
- new menu added to the controls screen allows you to re-order your special weapon button positions
- bug fixed: total shard count on save screen does not increment (fix is not retroactive)
- huge performance enhancement to improve frame rate
- bug fixed: increasing aptitude skill until goal is exceeded results in loss of remaining shards on next level up
- bug fixed: flame nova and plasma missiles intermittently fail to fire after loading a check point
- bug fixed: not all content loads in mission 81
- re-balanced enemies spawned on last 5 missions
- redesigned space backgrounds
- adjusted lighting on foreground asteroids
- adjusted to fix iphone 4 and lower screen size dynamically
- reworked mission 1 tutorial
- added new consumable pickup "Hyper Charge" that increases rate of fire, health regeneration rate and all special weapon recharge rates for a duration
- added compatibility with 64 bit devices
- increased max upgrade for shield duration, turret duration and turret damage skills
- re-sized game to better fit device resolution
- bug fixed: blank "save slot" buttons in the main menu
- bug fixed: only one of the wing turrets is firing
- bug fixed: force shield doesn't work the first time it's fired each mission
- bug fixed: asteroid field missions are stuck indefinitely
- fixed: special weapon buttons don't re-position after skill reset in some cases
- fixed: when unlocking multiple special weapons without clicking done the buttons don't appear in the order they were unlocked
- new Add-In: Increase score multiplier maximum cap from 5 up to 10 allowing for higher scores per mission
- re-tuned some of the mission pack enemies
- Added a mission pack of 30 new missions that can be accessed after completing mission 50
- Added chaining for the plasma missiles
- Increased maximum upgrade limits of several skill attributes
- Added mission navigation buttons to the mission map to make it easier to select missions
- Improved explosion effects
- fixed: special weapon buttons sometimes show up behind pause button or overlapping each other when using vertical layout settings
- fixed: leader board stats that fail to make it to the server on initial upload attempt are being cleared instead of uploading on next mission complete
- fixed: game sometimes freezes on black transition screen when exiting a mission
- enemies will no longer spawn from the left side of the screen
- completely re-designed all asteroid sequence missions
- brand new improved asteroid collision physics
- added a mission progress meter on sequence and small enemy missions
- bug fixed: iOS 8 forces portrait orientation
- bug fixed: special weapons are triggering when you slide your movement finger over them
- New Skill (Plasma Missiles): a powerful pair of heat seeking missiles that destroy multiple targets
- New Skill (Absorption Shield): a re-usable shield that absorbs a percentage of all enemy damage
- New Skill (Consumables): increases spawn frequency, damage and duration of consumable Shields, Turrets, Health Packs and Nukes
- Various other fixes and improvements
- player can now fire all weapons while flashing after a re-spawn
- background nebula colors are now animated
- fine tuned vertical background scrolling so its not so abrupt
- laser enemies no longer fire immediately upon entering the screen
- fixed: lightning and plasma beam were not hitting mines in sequence missions
- improved plasma beam appearance
- score multiplier will persist into next mission and on replay
- reduced asteroid fragmentation on lower difficulties
- fixed: ship thrust, plasma beam and force nova sound effects were not affected by sound settings
- fixed: mission top scores not refreshing properly on replays of same mission
- fixed: background vertical scrolling is jumpy when using the "swipe" control type
- fixed: checkpoints save while uncollected pickups are present
- fixed: pause button is sometimes difficult to press
- bug fixed: Ad banner continues to show after purchasing "ad-free" item
- bug fixed: game freezes on mission exit if ad fails to load
- bug fixed: the player ship pauses movement for a second right after is stops flashing on re-spawn or resume
- bug fixed: the mission ends and the summary appears after killing only one of the two bosses on mission 40
- bug fixed: upon restarting a mission during an asteroid field there are still several asteroids spawning
- improved tutorial tips
- added 2 additional movement control options; Fixed Offset and Swipe
- reduced volume of plasma beam sound effect
Celestial Assault: Reloaded FAQ
Check the following list to see the minimum requirements of Celestial Assault: Reloaded.
iPhone
Requires iOS 6.0 or later.
iPad
Requires iPadOS 6.0 or later.
iPod touch
Requires iOS 6.0 or later.
Celestial Assault: Reloaded supports English
Celestial Assault: Reloaded contains in-app purchases. Please check the pricing plan as below:
Score Multiplier Cap Increase
$0.99
Celestial Assault: Reloaded Alternative