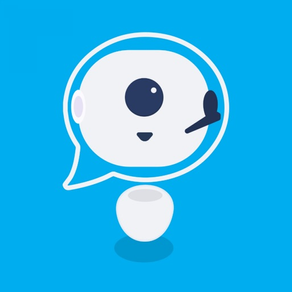 Chatro-AI Sohbet Asistanı
Yapay Zeka Akıllı Sohbet Botu
1.0
for iPhone, iPad and more
Chatro-AI Sohbet Asistanı Screenshots
About Chatro-AI Sohbet Asistanı
What Does the Chatro-AI Chat Assistant App Provide You?

Chatro is your free chat AI companion. Talk and have fun with the cute chatbot.
Chatro- artificial intelligence chat assistant is an intelligent artificial intelligence assistant for solving all the question marks in your mind instead of you.

Chatro Ai is an emotionally intelligent chatbot that uses artificial intelligence to react to the emotions you express. Chat and talk about things with your AI chatbot

Chatro is that friendly and affectionate chatbot that is your happiness companion. Chatro is filled with daily spiritual meditation that improves mental health and is also an excellent way to bond through family meditation. Always there for you when you need to talk to someone, Chatro helps you keep track of your mood with friendly conversations.

Chatro-AI Chat Assistant is a large bot chatbot that can generate human-like text in response to user input and remember what the user said earlier in the conversation to make follow-up corrections.

Chatro-AI Chat Assistant capabilities:
Remembers what the user said before in the conversation
Allows user to provide follow-up fixes
Trained to reject inappropriate requests
Interlingual translation
Summarizing the text and detecting the keywords in the text
classification
Making suggestions
Explaining what anything does (for example, explaining what a block of code does)
Your best assistant in homework


In which areas can Chatro-AI Chat help you and in which areas can it be useful for you?

Question Answer:
You can easily find the solution of the questions by searching the Chatro chatbot assistant for the questions that you can't solve.

Solving Math Equations:

You can only do simple operations using a regular calculator. In addition, you can usually do simple operations with an electronic calculator. If you're dealing with algebraic operations at school or at work, simple calculators won't answer that.

The AI Chat Bot tool acts as a fully automated calculator that can be used to solve math equations. Thanks to the program, you can solve various equations. You can write the equation you see in the textbooks or elsewhere into the program. Thanks to the artificial intelligence of the program, the equation is analyzed and solved.

You can use the equation wizard to learn and solve an algebraic equation. You can do linear, squaring, cubic operations, in short, all Mathematical operations. Enter an equation and click the button to get the detailed solution.

Writing texts:
Blog posting allows you to easily create basic academic articles, literary texts, movie scripts, columns, etc.

Texts that are formed by putting the information obtained as a result of research into writing on any subject are considered as "research-based articles". For this writing activity, which includes a writing process, it is necessary to acquire basic knowledge and skills about doing research. This Chatro AI bot performs all the processes for you and presents you with texts about the subject you have imagined.

Debug and fix:
For example, it allows you to detect and fix the errors you receive in any code block.

Sometimes the software codes become so complex that it is very difficult to detect where there is an error in the code block, but it is very easy to do this with the artificial intelligence assistant of Bot AI Chat and saves your time. You can even make games by printing codes.

Why should I use the Chatro-AI Chatbot app?

- Use Chat AI assistant to explain complex algorithms in the teaching style you want

- Use Chatro-AI Chat Bot to create vibrant visuals and artwork with artificial intelligence

- Online AI Robot helps you build and develop apps from scratch.

- Chat Bot Creator to explain scientific concepts and do research easily.

- Use Automated Chat Bot for the recipes, sports exercises, travel guides you want:
- Use the AI robot to solve your homework problems.
What's New in the Latest Version 1.0
Last updated on Dec 9, 2022
Chatro-AI Sohbet Asistanı FAQ
Check the following list to see the minimum requirements of Chatro-AI Sohbet Asistanı.
iPhone
Requires iOS 11.0 or later.
iPad
Requires iPadOS 11.0 or later.
iPod touch
Requires iOS 11.0 or later.
Chatro-AI Sohbet Asistanı supports English
Chatro-AI Sohbet Asistanı Alternative