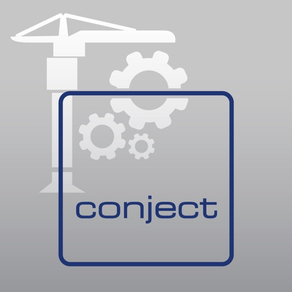 conjectPM Mobile
6.8.0
for iPhone, iPad and more
conjectPM Mobile Screenshots
About conjectPM Mobile
conjectPM is the web based project collaboration platform for your construction or real estate project. Manage your projects anytime and anywhere with the conjectPM App!

YOUR BENEFITS

• Increased flexibility – Remotely access all project documentation and communication
• Saving time – Respond to any requests without delay and easily manage processes
• Always up-to-date – See new messages, uploaded files and news at a glance
• Play it safe - Directly check status and validity of drawings and documents

YOUR POSSIBILITIES

• Quickly find drawings, documents and project messages
• Read and reply to project messages as usual
• Start, edit and monitor processes
• See process details such as reviews, due dates, status, attached files
• Check status and validity of drawings and documents using the integrated QR code scanner and directly access details
• Individually configurable overviews for activities, deadlines, project progress and trend analysis in realtime
• Mark important drawings and documents as favorites
• Easily access drawings and see design details such as categories or status of drawing within processes
• View drawings in PDF Viewer
• Open drawings and documents in conjectPM or in external Apps
• Easily download and directly send documents and drawings to other project participants or any contact
• Directly attach photos to messages or processes
• Quickly find and access projects in the list or by the map

This App is available in English, German, French and Russian.
What's New in the Latest Version 6.8.0
Last updated on Apr 5, 2018
Old Versions
This app has been updated by Apple to display the Apple Watch app icon.

Bugfixes
Version History
This app has been updated by Apple to display the Apple Watch app icon.

Bugfixes
•´Shared Files´ - Ability to edit drawings and documents in external application and share those back to conjectPM for sending via message or process
•Bug fixes and UI improvements
• New Dashboard: Project-related, individually configurable overview of recent activities and deadlines, project progress and trend analysis. Clearly structured representation in the form of graphs, tables, lists and accumulated figures - drill down for more detailed information (Open for example, individual elements such as news or documents directly and edit, zoom graphs and selected for more detailed information click areas). The configuration of the dashboard takes place for the time being on the web application conjectPM.
• Open-In: plans or documents can be either open directly in conjectPM or in an external application, which resides on the mobile device.
• Process handling: Reply to and delegate processes
• Search: Filter search results and select to only display results from 'Communication', 'Drawings' or 'Documents'
• Directly attach photos to messages or processes (select from album or take photo)
• PDF Zoom is enabled
• Spinning wheel is shown when loading large files
• Favorites, Documents and Drawings can directly be attached to processes
• Projects that are close together on the Google Map are clustered
• Project description can be shown in project list (needs to be enabled in settings)
• Integrated QR code scanner: check status and validity of drawings and documents by scanning the CONJECT Matrix code (QR code); directly access details
• Start processes within the App
• Integration of processes: see processes and process details such as reviews, due dates, status, attached files
• Improved view when reading messages
• App is available in Russian and French
• Improved loading time for list views
• Refresh views in news page by pulling down
• Type a custom email address in write message form
• Filter Project List by ´Recently used projects' and 'All projects´ and find project via search
• Enhanced navigation makes it easier to move between different sections within the app
• Project Search helps finding documents, drawings and activities inside a specific project
• Implementation of color codes to distinguish processes by type
• Due date is displayed for activities
• Project name is displayed in the menu
• New login screen with option to save login details
• Access to drawings
- Easily find drawings: Search and filter drawings by category or search term; also use the predefined filters from the pm. App
- View drawing details: e.g. see if a drawing is related to a process or which 'Categories' are assigned
- Process your drawings: Send drawings via message, download and open drawings or add them to favorites
• Select multiple documents and drawings and directly attach them to a message
• Additional UI improvements
Support of German language, bug fixes and performance improvements

•Added support for German (dependent on operating system language)
•Reading messages is logged in pm. message history
•Project can be opened even when ´Communication´ module is disabled in pm.
•Support for Unicode charset passwords (e.g. Russian)
•Improved project selection via Map
•No unintentional app closing: selecting 'Back' in the project list asks for confirmation before closing the app
•Improved Security – the app will automatically logout after 30 minutes of inactivity (only when login credentials have not been saved)
•Various bug fixes
•Improved navigation and new design
•Send (multiple) documents directly out of the documents list
• New support for airPrint
• Supporting to send messages in case mandatory categories are set
• Enhanced login & logout behavior
• Forwarding a message no longer pre-fills To: field
Bugfix: supporting Organizations
The CONJECT iPhone app now supports multiple modules of the pm. application:

• The 'what's new' module allows you to quickly view new messages, newly uploaded documents, and your recent documents.
• The communication module allows access to your inbox on the conject pm. platform, and lets you read and reply to activities you receive.
• In addition, you can send documents stored on the platform with pm. messages without the need to download them to your iPhone.
Major update including many requested new features plus some improvements:
1. Global search (across all projects)
2. Project search (just within one project)
3. Search returns these object types: documents, drawings, messages
4. Drawings and messages found in a search can be opened and viewed.
5. Saving of password can be disabled
6. Optimized memory handling - more and bigger documents can be opened

The next release will also allow for browsing of drawings and messages.
conjectPM Mobile FAQ
Check the following list to see the minimum requirements of conjectPM Mobile.
iPhone
Requires iOS 7.1 or later.
iPad
Requires iPadOS 7.1 or later.
iPod touch
Requires iOS 7.1 or later.
conjectPM Mobile supports English, French, German, Russian
conjectPM Mobile Alternative