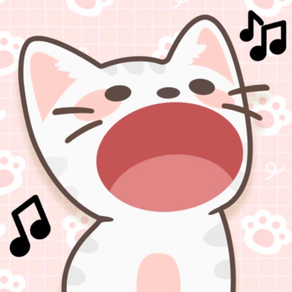 Duet Cats: Cute Cat Games
Relaxing Kawaii Music Cat
Free
Offers In-App Purchases
1.2.74
for iPhone, iPad and more
Duet Cats: Cute Cat Games Screenshots
About Duet Cats: Cute Cat Games
The music world of cute cats is out now - cat music game! Let's control the hottest pop cat duet ever. Who will be the diva cat in this cat tower?

Duet Cats is the perfect mix of funny cats, meowing cats, relaxing music, and challenging rhythm. This popular virtual cat game is so addictive, you won't be able to stop playing!

DUET RULE:
All you need to do is feel the rhythm of the cute cat songs and control your two hands to feed the cats. Simple gameplay, anyone can join in on the fun. Cute popcat, all out fun, meow!

CUTE KITTY FEATURES:
1. Cat music: Feed them and Pop Cat will sing to you with cute sounds.
2. Customize and decorate your dream Cat Tower
3. Cat food: A food store dedicated to your cute Pop Cat.
4. Upgrade Pop Cat: Collect various kawaii kitty cats!
5. Popular music: Cat singing remixes of popular songs with cute cat sounds.
6. Cat Game pictures: Based on the famous meme, Pop Cat, cat sound music, and cat cartoon concept game.

LET'S GO Cat Games!!!
1. Duet with all funny cats
Not one but a duet! Your two funny cats (a black cat and a kitty cat) are singing their adorable meows together in a hilarious ensemble. You can fatten them up by feeding them all the falling food. Oops, what if they become obese?

2. Simple but addictive with two-handed control
Left, right, and...center, with two hands. Use your hands and your observation to move through hundreds of levels of music rhythm falling. It's not easy, but if you get through it all, clap your hands, kittens!

3. New Sweet Home:
Decorate and personalize the adorable cat tower for your kittens to live in! Let's make their rooms so cute! Test your interior design skills and lovely decorating eye. Unlock cute cat tower decorations like: a fridge, pictures, a bar, furniture, a carpet, a café, and restaurants.

4. A food store dedicated to your cute cats. Play songs with their voices to get more food for them. The food store has a cafe, sushi, candy cats, cake, and ice cream cats. You can also shop for your cute cats.

5. Various cute cats to collect
If you're bored with the gray and white cat you started with, it's time to change its look! You can choose from many skins to change the cat breed: cute kitty charm, black cat, Monty cat, Maru cat, and more. Upgrade your cute cats and feed them through Duet Cats' musical challenges. The list goes on!

6. Remixes of popular songs with cat sounds
More than 1,000 popular songs are waiting for you to unlock. With the latest version, Cat Duet has added many new, better, and more fun songs. Join your cat in feeling that diva tune. Can you imagine what it would be like to combine it with the "meowing" sound? I can't! Hurry up and be the first to hear it.

7. Stories in Duet Cats. The cute cats tell their "hungry" stories through the diva cat voice. Don't stop feeding the cute cats or they will get mad at you. And don't forget, there are two funny cats.

Whether your cat loves to meow or you simply enjoy listening to the sounds of other cats, Duet Cats has got you covered. The app features a wide range of cat sounds, including cats meowing, cat meows, and even funny cat memes that are sure to make your furry friend look beautiful.

In addition to sounds for cats, Duet Cats also has a shop with a variety of breeds of cute cat pictures. You can browse through a collection of the cutest cats and kitties, complete with costumes and hilarious antics that are sure to put a smile on your face.

Are you looking for animal games, funny cat pictures, or a variety of music genres? Are you looking for relaxing games, cat games, or role-playing games? Are you looking for more addictive games in this genre? Duet Cats is the perfect gift for you.

Lead your pop cat into shining diva cats like their meme.
What's New in the Latest Version 1.2.74
Last updated on Sep 30, 2023
Old Versions
- Fix bugs and improve performance
Version History
- Fix bugs and improve performance
- Fix bugs and improve performance
Fix bugs & optimize performance
Fix bugs & Optimize performance
Introduce IAP offer to Remove pop-up ads after a game
New feature release: New Sweet Home - Decorate the Cat Sweet Home
- Optimize performance & Fix minor bugs
- 48 new songs available
- 12 new cats available
- New Star system
- Fix bugs and optimize performance
- New popular songs At my worst, 2 phut hon
- New feature Daily Reward, Bonus coin at the end of songs
- Optimize performance and fix bugs
- Add a lot of new CATs!!!
- New food for your cute CATs
- More songs to play

ENJOY THE MUSIC GUYS!
To make Duet Cats work better for you, we deliver updates regularly. These updates include bug fixes and improvements for performance.
Duet Cats: Cute Cat Games FAQ
Duet Cats: Cute Cat Games is available in regions other than the following restricted countries:
Philippines,China
Duet Cats: Cute Cat Games supports English
Duet Cats: Cute Cat Games contains in-app purchases. Please check the pricing plan as below:
Check the following list to see the minimum requirements of Duet Cats: Cute Cat Games.
iPhone
Requires iOS 11.0 or later.
iPad
Requires iPadOS 11.0 or later.
iPod touch
Requires iOS 11.0 or later.
Related Videos
Latest introduction video of Duet Cats: Cute Cat Games on iPhone
Duet Cats: Cute Cat Games Alternative