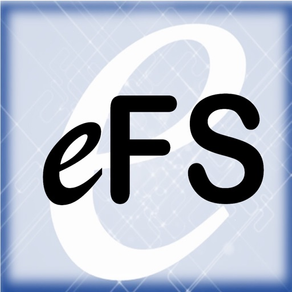 eFS Mobile
2.8.81
for iPhone, iPad and more
About eFS Mobile
EFS Mobile is a direct mobile link to your Next Software package, CRMoble allows your Field Service Technicians to stay connected to complete their dispatched assignments, capture time spent, submit inspection checklist with images and client confirmation signatures.
What's New in the Latest Version 2.8.81
Last updated on Apr 2, 2022
Old Versions
- Hotfix for iPad crash on the In Progress tab
Version History
- Hotfix for iPad crash on the In Progress tab
- Manual segment selection is now required for any work order with multiple segments. No longer defaults to segment zero unless that is the only segment on the work order.
- Button on the login screen for editing the URL
- No longer forced to enter a destination email address to submit a work order. If blank the PDF will still be generated on the server but no email will be sent.
- Double click on checklist section headers to toggle the status of all status boxes
- Status boxes can be cycled back to "unspecified"
- Technician names displayed in Work Time section of each segment
- Server settings available for excluding Labor and/or Parts from the checklist PDF
- Server settings available for customizing which checklist item statuses will require an additional signature
- Ongoing improvements for handling connection interruptions and syncing
- Sync related bug fixes.
- Sync button disabled while a previous Sync is still in progress.
- Improved handling for connection interruptions.
- Bug fix: Notes saving from technicians belonging to a different branch than the work order.
- Bug fix: Notes not all saving
- Default checklist bug fix
- Bug: Notes carried over between work orders
- The default labor code can be overridden via page 2 of Work Order Header in NFW
- Incorrect contact info bug fix
- No Data Found bug fix
- Multi-segment checklist bugs fixed
- Bug Fixes
- Version checking fixes
- Notes bug fix
- New version checking/cleanup. App reinstall no longer required.
- Add dispatch fixed
- Improved notes history
- Checklist/PDF bug fixes
- Improved notes history
- Checklist/PDF bug fixes
- Segment selection bug fix
- Diagnostic logging improvements
- Improved diagnostic logging
- Bug fix: Edit dispatch data loaded from previous work orders
- Many PDF bugs resolved
# Addressed Segment Notes Issue
# Addressed Switch Checklist Issue
## Corrected minor sync issue
# Corrected Date format in Labor.
# Minor Fixes and Enhancements
###### Updates and Bug Fixed
# Dispatched' list WO history overwrites 'InProgress' WO history data.
# Changed MC to readonly in both parts/labor and edit dispatch screens
# Added Save, Save/Exit should sync data to staging tables.
# WO quotation submitting blank data to web services.

# Removed empty data from WO history details.
# Added Total Time on WO History labor details.
# Added Validation for Miscellaneous Charges.
# Checklist Details Screen for detail type "None"
# Equipment hours should not show hours initially.
# Map filter.
# Get Billing Reference , WO Type and priority list in Edit Dispatch and Add Dispatch.
# Bugs fixes and functional Upgrades
# 1. In Dashboard moved the Customer field above the date field.
# 2. Fix in total time calculation in parts and labor screen.



eFS Mobile FAQ
Check the following list to see the minimum requirements of eFS Mobile.
iPhone
Requires iOS 10.3 or later.
iPad
Requires iPadOS 10.3 or later.
iPod touch
Requires iOS 10.3 or later.
eFS Mobile supports English