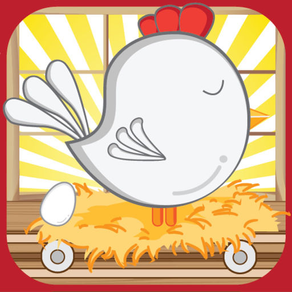 About Egg Frenzy
Do you have what it takes to take on a frenzy of egg laying chickens? Try to catch as many eggs as you can while the chickens whiz by the conveyor belt and lay their eggs when you least expect it.

Compare your high scores with those of your friends and see how many chickens and eggs you where able to process.
What's New in the Latest Version 1.5.5
Last updated on Oct 12, 2017
Old Versions
- Compatibility update for iOS 11
- Removed Facebook and Twitter Integration
Version History
- Compatibility update for iOS 11
- Removed Facebook and Twitter Integration
- Added difficulty selection when pressing the Play button
- Updated icons for the iPhone 6 and iPhone 6 Plus
- Updated Game Center so that leaderboard data is now shared between Egg Frenzy and Egg Frenzy Skillz
- Fixed a resume bug that affects older iOS devices not updating the score and remaining lives visually upon resuming the game. The game did keep track of the lives and score correctly in the background.
- Fixes an issue with Game Centre that prevented players from being authenticated.
- Game Engine completely redesigned to use all Apple technology.
- Retina and iPhone 5 support
- added Facebook and twitter controls for social messaging and sharing of score data.
- Removed AirPlay to improve performance on older devices.
- Updated game logic to try and make the game more entertaining.
- Chicken colour now indicates what type of egg a chicken will lay.
+ White chickens: white eggs worth 10 pts each.
+ Orange chickens: gold eggs worth 30 pts each.
+ Brown Chickens: rainbow eggs worth 90 pts each.
+ Gray chickens - lay random egg colors.
- Updated the game so that it can run on the iPad 3.
- Added support for Apple TV full screen mirroring and TV out connections. Use your iPhone or iPad as a game controller while you play the game on your TV.

################################################
Note:

Depending on your setup it is possible some lag may occur when playing the game through the apple TV. This can sometimes lead to minor errors in the game.
################################################

- Improved egg laying, chickens lay eggs more frequently.

- fixed a bug where the game would crash on startup if logged in to Game Center.
Modified the Highscore information in the main menu. Added a border and removed the (local) and (Game Center) indicators.

When connected to Game Center the text will switch to "Loading..." while the score is retrieved. If the score fails to load the local score is displayed instead.
- Added a local high score on the main menu screen. The high score displayes either the local high score or the game center high score if available.
Egg Frenzy FAQ
Check the following list to see the minimum requirements of Egg Frenzy.
Egg Frenzy supports English