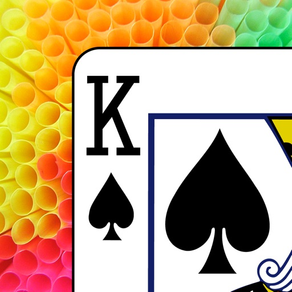 Epic Solitaire Collection
Favorite games in one app.
1.21.1
for iPhone, iPad and more
Epic Solitaire Collection Screenshots
About Epic Solitaire Collection
Solitaire Collection combines hundreds of the best solitaire (patience) games from around the world in one app. Popular classics like Klondike, Yukon, Spider and FreeCell plus many other great traditional games and variants and many exclusive original solitaire games.

Looking for a difficult game to challenge your mind or a calming game to soothe your brain? There is a game for you.

Beautiful, highly detailed card faces take full advantage of Retina displays and the no-nonsense interface keeps the focus where it belongs, on the game play.

Quickly find your favorite game or your new favorite with navigation features like:
*16 category folders sorted by game style.
*Most Popular category - quickly find the most played games from around the world.
*Customizable Favorites list - easily add your favorite games for quick access.
*New category - quickly see recent additions to the collection
*Search for games by name.
*An advanced search filter -iPad only helps you find games with the game mechanics that you love.
*Screenshot, description, list of the game mechanics and difficulty for every game.

Scores and statistics for each game and sortable global statistics. What games have you played the most? Won the most? Find new games with direct links to individual games in the global statistics lisy.

Detailed rules for every game and a glossary of solitaire terms to help you quickly learn to play new games.

Includes all these and more:
13 Up
40 Thieves
Accordion -iPad only
Aces & Kings
Aces Up
Acme
Agnes -iPad only
Alaska
Algerian -iPad only
Alhambra -iPad only
Archway -iPad only
Assembly
Australian
Babette -iPad only
Baker's Dozen
Baker's Game
Bavarian -iPad only
Beetle -iPad only
Beleaguered Castle
Bell Towers
Binary Star
Birdie
Black Hole
Black Widow
Blend
Blind Alleys
Blondes -iPad only
Breakwater
Bristol
British
Brown Recluse
Busy Aces
Cairo
Calculation
Canfield
Canister
Cardiff
Carpet
Circle Ace
Circus
Clock -iPad only
Colorado
Concertina -iPad only
Congress
Constitution -iPad only
Cornelius
Corners
Crazy Quilt -iPad only
Crescent
Criss Cross
Cruel
Curds & Whey -iPad only
Czarina
Demons & Thieves
Demonthief
Diavolo -iPad only
Double Rail
Double Sleepers
Doublets
Duchess
Dutch
Eastcliff
Easthaven
Eight Off
Emperor
Falling Star -iPad only
Fan -iPad only
Fanny Easy
Fanny Hard
Farmer's Wife
Fascination -iPad only
Father's
Fifteen Puzzle
Five Piles
Flower Garden
Flower Pots
Fortune's Favor
Four Seasons
Four Stack
Four Winds
FreeCell
Gap
Genie
German -iPad only
Giza
Gold Mine
Gold Rush
Golf
Grandfather's
Grandmother's
Great River
Hand -iPad only
Haystack
Hole in One
Indefatigable -iPad only
Indian Carpet -iPad only
Intelligence -iPad only
Interchange
Interregnum -iPad only
Kiev
King Albert -iPad only
Kingsdown -iPad only
Klondike
La Belle Lucie -iPad only
Lady Betty
Lady Cadogan -iPad only
Lady of the Manor
Lanes
Last Chance
Letter H
Minaret
Mini
Miss Milligan
Miss Muffet -iPad only
Monaco
Montana
Monte Carlo
Morehead -iPad only
Mount Olympus -iPad only
Mouse
Mrs Mop -iPad only
Mulligan
Nanny
Necropolis
Needle
Nestor
Northwest Territory -iPad only
Odd & Even -iPad only
One234
Opus
Orbits
Order Time -iPad only
Oros -iPad only
Oscillate
Osmosis Strategic
Pas Seul
Penguin
Persian Rug -iPad only
Pineapple
Pitchfork
Pumpkin
Pyramid
Queenie
Raglan -iPad only
Ranks Fan
Reciprocate
Rectangular
Redheads -iPad only
Riviera
Romanian
Rouge et Noir -iPad only
Royal Family -iPad only
Royal Marriage -iPad only
Russian
Satellites
Saxon -iPad only
Scorpion
Seven Devils
Shady
Shamrocks
Siberian
Silver Mine
Single Rail
Sir Tommy
Sleepers
Somerset -iPad only
Sorel
Spanish
Spider
SpiderCell
Spiderette
Spidike
Squadron
Square
Strategy
Tarantula
Terrace -iPad only
The Wish
Thieves of Egypt
Thirty Six
Thoughtful
Thumb & Pouch
Tournament -iPad only
Towers
Triangle Golf
Triangle
Trigon
TriPeaks
Tuffet -iPad only
Ukrainian
Undercover Aces -iPad only
Vertical
Vincent
Westcliff
Whitehead
Whitehorse
Will o' the Wisp
Yukon
Yukon Spider
What's New in the Latest Version 1.21.1
Last updated on Dec 21, 2022
Old Versions
Fixed a bug where Spider failed to launch.
Version History
Fixed a bug where Spider failed to launch.
Compatibility update.

Bug fix list:

Four Seasons: Now scores properly when auto-promote is off.
40 Devils: Now has the correct number of cards.
Sir Tommy: Now has the correct number of cards.
Flower Garden: Now has the correct number of cards.
Interregnum: Win condition is now properly triggered.
Ants: Wind condition is now properly triggered.
Odd and Even: Now has the correct number of passes through the deck.
Crazy Quilt: Scoreboard labels are now correct.
iOS 13 compatibility update.
Fixed a display issue with Tournament Count.
Fixed a display issue with iPad Pros.
iOS 12 compatibility update.
Added new game Tournament Count (iPad). Tournament Count is a very strategic game.
iOS 11 compatibility update.
Fixed a scoring error in Tournament.
Added 30 new games including KingCell.

Fixed a crash issue with Tournament game. Thanks to H.B. for emailing support about this issue.
Added 32 new games including Dark Triangle & Dover.
Added 32 new games including the Elba and the hybrid game FreeCell Spider.
Added 33 new games including "Dragon" and "FreeCell Askew".
- Added 29 new games.
- iOS10 compatibility update.
Added 41 new games. Improved auto-stop logic. Auto-stop halts auto-promote when there is a decision to be made. With this improvement auto-stop will only halt auto-promote when the decision is relevant.
Added 29 new games. All free to play with no in-app purchase.
Epic Solitaire Collection FAQ
Check the following list to see the minimum requirements of Epic Solitaire Collection.
iPhone
Requires iOS 12.0 or later.
iPad
Requires iPadOS 12.0 or later.
iPod touch
Requires iOS 12.0 or later.
Epic Solitaire Collection supports English
Epic Solitaire Collection Alternative