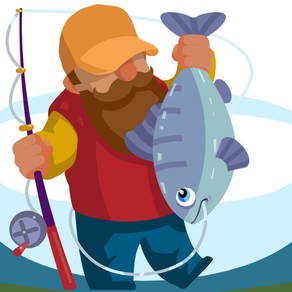 Fisherman
Let's make fishing great again
About Fisherman
They say there are two types of fisherman - those who fish for sport and those who fish for fish. Now it's time to find out which one are YOU!

Welcome to the wet and wild world of ultimate fishing, where you play as the FISHERMAN! You are the master of the fishing rod, line and lure. With real physics.

FISHERMAN is a spiritual sequel to an old game that many people in Finland remember! It was a game where gnome type of troll just sat fishing for her wife. Or was it an albino hippo? It was so long ago that my memories get hazy... But events set in destiny made this game come back to life in this new form.

This time you don't sit and you are not a troll. You stand up and you are human (kinda) and most importantly - you fish again! With real physic. Randomly generated whoppers. Just like it was always meant to be. Take your time. Fishing is not about skill, it's not about fast reflexes or polished technique. Fishing is about taking your time, relaxing, catching and hatching rare and exotic fishes and by that slowly progressing towards a new location. Find new fishes, purchase better gear, try new looks and venture to new areas in search of almost legendary fishes, that nobody has ever seen.

List of Features:
(lists are needed to make this text appear longer and us to look more professional. If you read to the end we will reward you!)

- Real physics based fishing
- Dynamic time and day to track when it's time to go home
- Dragonflies. Buzzz.
- Character that stands. That's you, the FISHERMAN
- Tons of different fishes for gathering and Fishdexing (tm)
- Costumes to wear when fishing.
- Locations to find more fishes and to enjoy exotic nature atmosphere
- Juicy larvas to eat!
- Gather coins someone has dropped to sea.
- Note to above line. Fishes eat those, not you as player. We don't care what you do at home.
- Rods, Lures also. (Yep if you go for bottom feeders you need different tools)
- Fishdex to have way to collect all. Also fishdex generates mystically coins to use.

Check the game, meet us www.ultimatefishmaster.com and give your ideas to be even better!!

Tap empty space five times in row on hatchers screen to get secret costume.
What's New in the Latest Version 1.4.9
Last updated on Apr 26, 2021
Old Versions
Version History
- 9 completely new exotic fish!
- Minor bug fixes!
- We added a CAT to the Fisherman! Go to the Forest Lake to unlock your pet!
- Descriptions for each of the 81 fish! Each one of them was painstakingly studied by Fisherman Advances Ichthyologist Team. It's called FAIT. FAIT team consists of 20 experts and they fished for 3 weeks in a row and categorised all fishes (or "gill-bearing aquatic craniate animals", as they call them). You can now read their findings and interesting lessons in Fishdex screen! Fun AND educational! If you can make more, please post them to reviews or send us directly! We would like to see more info, for example, about Fishbee behavior and also Night Fish!! Were not sure if its fish or Cephalaspidomorphi.
- Tunes to art (Yes it's art, not "graphics". We take our job seriously!)
- "Bugs fixed. Our team is working hard to bring…" Oops, sorry, I forgot this copy paste text. Anyway.. For real: Bugs have been fixed!

Our lead coder wrote a poem for cat. I'm posting it here since it's so beautiful:

"Cat Poem", by Lead coder

My cat is orange and it's with me every day
It likes fish
So we get him a fish and we put in a cat

I have to admit, I was a bit nervous when writing this because I didn't know how to write cat poetry! And of course there was a lot of frustration to finish this. I really hope you all enjoy it as much as I do.

Lead coder
New version! New day, the sky is bright and the world is a happy place to be!


- To celebrate this, we added more features to "No Ads" - now buying it benefits you a lot more!.
- Improved tutorial flow for new Fishermen who are just starting.
- Added and tuned flow for metagame. (Just that you know: metagame is by definition any approach to a game that transcends or operates outside of the prescribed rules of the game, uses external factors to affect the game, or goes beyond the supposed limits or environment set by the game.) Wow! I learn new things every day!
- Bonus and progression tunes here and there - developing the Fisherman is like chipping a pieces away from marble statue. Thats how you create a masterpiece!
- Cooler UI, animations and art! Cooler but not colder! We mean they look better!
- All kinds of under the surface stuff!
Whole Hatching Fishes procedure and continuance has been updated to match the latest regulations of IOVIS (International Organization for Vertebrata Incubator Standardization. In short, it's now easier to see how important fish Hatching is! It is 10+1 important!

Overhaul in menus. Meaning lot of love put into it. Details tuned, animations upgraded, and we also added a pixel.

Fixed bugs. We actually fixed lots of them. While doing that we also created new bugs, and then fixed those too! This line is not copied from "we update app regularly to .. plaa plaa plaa.." HEY WHY YOU STILL TYPE! STOP IT.. Upp sorry boss. I thought that i have to do! OK don't do that again. Ok ok. Ring ring ring… (wife calls). "Hello Darling. Yes i will pick up the kids today. Yes i remember Bobby has diarrhea from that week old pudding that aunt did. Will not forget that. I love you also. Bye"

Tuned DNA on fishes. (that means we tuned lots of parameters in Fishes. Is MASSIVE XML sheet with 30+ details on every fish. Looks simple to you as player but when i'm here late at night, alone in the office writing these fish stats in excel sheet that is send to XML parcel and then JSON database .. I miss my son Bobby, BUT i do it for you dear Fisherperson. Anyone who reads these is a nice person also. Tweet #BobbyDaddyLovesYou if you read! Please. So i feel i have meaning in my life.
◉ 1 new lake
◉ 6 new fishes
◉ 3 new lures
◉ 3 new rods
◉ 15 new bodies you can mix with the heads
◉ Added Collect All 2X- bonus to Fishdex
◉ Enhanced the money progression on Fishdex collection
◉ Lots of minor bug fixes
UPDATE #2
Scientist has found that new fish breeds have been invading beaches! Some seem dark and evil but we hope they are actually nice. Only two scientist hands where eaten by them.

- So far we have counted 15 new fishes. Collect hem also all and keep fingers way when catching them.
- FHU screen tuned. (Fisherman Heads Up) screen have been improved by adding fish money.
- Leaderboard have been tuned to add data. Data is good. (Not sure about that sci-fi character but that's just personal opinion and don't reflect team opinion)
- Lots of ui and bug fixes to make gameplay smooth as side of Queensland lungfish when lubricated with palm oil and grilled 25 min in medium oven.
◉ Pesky bugs crushed! (In code and in cellar)
◉ UI improvements. (Coin amount visible. Remember to buy fishing gear!)
◉ Hatching UI improvements. (Remember to hatch your catch!)
◉ Simplified the result screen UI.
Fisherman FAQ
Check the following list to see the minimum requirements of Fisherman.
Fisherman supports English