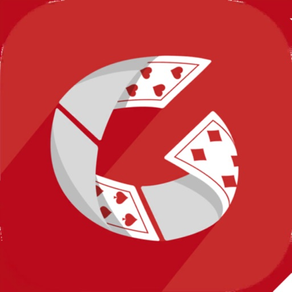 Games of Cards
حکم ، شلم و تخته نرد آنلاین
3.308
for iPhone, iPad and more
Games of Cards Screenshots
About Games of Cards
Games of cards bring hokm and shelem and Hearts online in your pocket!
Just open app and start playing online!
Most powerfull features:
- online Backgommon
- send emoji!
- chat with other users
- create groups
- watch live games
- react to good players
- play shelem with diffrent options
- send push notification to your friends to get online!
- play backgommon with your friends
- and etc


Game of cards (گیم آو کاردز) یک بازی آنلاین است که با دوستان و سایر کاربران در محیطی سالم می توانید به رقابت و مسابقه بپردازید. با بازی Game of cards شما در هر کجا و در هر زمان می توانید به صورت آنلاین با دوستان خود یا دیگران بازی های حکم و شلم و بیدل را بازی کنید.
با گیم او کاردز به راحتی با دوستان خود تخته نرد (Backgommon) بازی کنید .
همچنین شما می توانید با سایر کاربران تخته نرد بازی کنید.

از جمله قابلیت های مهم این بازی می توان به اضافه کردن دوست، بازی با دوستان، بازی با کاربران دیگر به صورت آنلاین، امتیاز بندی، امکان محدودیت بازی برای سطح های مختلف، بازی حکم با نرس و سرس ، بازی شلم، امکان تعیین زمان بازی توسط سرور، امکان ارسال استیکر در حین بازی ، امکان مشاهده ی پروفایل دیگر کاربران و ...


این بازی برای همه ی پلتفورم های موجود می باشد و دوستان شما در دیگر پلتفورم های گوشی همراه می توانند این بازی را نصب کنند و با شما بازی کنند.

***** برخی از قابلیت های بازی :

- امكان بازی با دوستان و قابلیت لیست دوستان

- قابلیت بازل شلم با جوکر و بدون جوکر

- بازی بی دل، حکم و شلم در یکجا

- امکان ارسال درخواست دوستی

-بازی حکم با نرس و سرس

-ارسال ایموجی در حین بازی

- بازی تخته نرد آنلاین

- امکان مشاهده بازی انلاین سایر کاربران به عنوان تماشاگر و یادگیری و افزایش مهارت در بازی های حکم وشلم
What's New in the Latest Version 3.308
Last updated on Mar 10, 2023
Old Versions
some minor backgommon bugs fixed.
Version History
some minor backgommon bugs fixed.
some backgommon bugs fixed
Reaction to messages added.

bugs fixes.
add auto role to backgommon.
- Introduce new game : Bckgommon online
- reply to other users chats
- improving animations
- bug fixes
- added account deletion
- some tablet display issue fixed.
- return button bugs fixed
- friends list watch live fixed
...
ios 12 and ios 11 crash fixes
Fixed panel size bug on tablets
Fixed a bug in selecting points on tablets in the shelem game
Fixed some bugs in groups
Added live stream section
Watch other users play and send reactions
Show number of users inside a game room
Ability to search the blacklist
Ability to search users
fixed nodge issue
And ...
- Ability to insert a profile photo
- Ability to change the username once
- Fixed some bugs
Unveiling of the new look of the game
Ability to create groups
Compete with other groups with the ability to play in groups
Added Hearts game
Fixed some bugs
Added Arabic, French
bugs fixed
Shelem is added
backgommon is added
User interface improvements
Optional Avatar selection added
Games of Cards FAQ
Check the following list to see the minimum requirements of Games of Cards.
iPhone
Requires iOS 11.0 or later.
iPad
Requires iPadOS 11.0 or later.
iPod touch
Requires iOS 11.0 or later.
Games of Cards supports English
Games of Cards Alternative