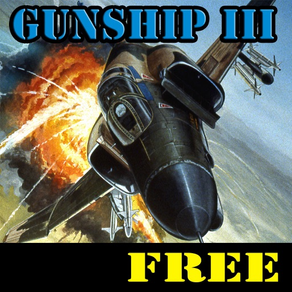 Gunship III - Combat Flight Simulator - FREE
Free
Offers In-App Purchases
3.8.4
for iPhone, iPad and more
Gunship III - Combat Flight Simulator - FREE Screenshots
About Gunship III - Combat Flight Simulator - FREE
EXPERIENCE THE VIETNAM WAR AIR COMBAT

Immerse yourself into the mist of the Vietnam war as an US helicopter or a fighter pilot.

Not like other flight sim games for mobile devices, in Gunship-III the cockpit is highly simulated with ultra-realistic 3D cockpit, full function dashboard, realistic sound effects and all moving parts.

Graphics are highly detail with cities, jungles, airbases, also includes a vast terrain covers Vietnam, Laos and Thailand.

In Gunship-III, you have more aircrafts available to fly more than any other games. We're working hard to bring even more in future updates.

Weapon systems in Gunship-III are also highly detail and accurate with real recorded sounds, high fire rate for miniguns as well explosion effect for bombs and rockets.

ARTIFICIAL INTELLIGENT (AI)

Each mission features many AI aircrafts, you also have AI gunners onboard who will shoot at anything firing at them and make sure nothing could touch your aircraft.

The enemy is also aggressive and fearless, they only shoot at you when in close range and be aware of those RPG, they sure take an aircraft down just by one hit.


FEATURES:

* AI aircraft performance advanced combat tasks.
* 360 3D cockpit view with zoom.
* Fully functioning cockpit avionics.
* Pilot G visual effects.
* Auto pilot for long flight.
* Weapon system: minigun, rocket, smoke grenade...
* Details graphics with cities, trees, ground troop on a vast terrain map
* Two realistic and detailed Vietnam War campaigns: Rolling Thunder (1965) and Barrel Roll (1964).
* Full version features 7 flyable helicopters: H-19 Chickasaw, H-34 Choctaw, CH-47 Chinook, UH-1D Huey, OH-6A Cayuse, UH-1B Huey Gunship, AH-1G Cobra.
* Full version features 3 flyable airplanes: A-1 Skyraider, F-100D Super Sabre, F-4D Phantom II.
* Multiplayer with live chat, fly with people around the world.
What's New in the Latest Version 3.8.4
Last updated on Dec 12, 2016
Old Versions
This app has been updated by Apple to display the Apple Watch app icon.

Fix engine slowly spool up on some devices
Version History
This app has been updated by Apple to display the Apple Watch app icon.

Fix engine slowly spool up on some devices
Fix invisible multi player bug
Remove grace spawn time for AI
Fix AI continue to fight after destroyed
Add bomb delay
Reduce lag and code optimization
Various bug fixes & improvements
iOS9 compatible
More vibration when pulling G
Increase GLOC affect in realistic mode
Remove Arcade Mode
Fix CH-47 engine sounds
Fix Unlimited rockets in realistic Mode
Fix Cockpit that doesn't have fuel gauge should display fuel percentage
Fix No night in Realistic Mode
Fix Radar should stabilize when aircraft bank (MIGs)
Fix Heli spawn under pad
Various bug fixes and improvements
New sky and cloud
Improve flight physics
New multiplayer mode
New AI code
Add more aircrafts
Task #330448: Correct glass night lighting
Bug #329365: Missiles do not reload on SP.
Bug #330441: instant dog not continue when player leave
Bug #330443: ground unit hover
Bug #330445: Rudder default sensitivity
Bug #330446: Autopilot steering sensitivity
Task #320753: AiM-7 Bug
Task #322790: Mission failed to reload
Task #327454: Improve overall performance and reduce memory usage.
Feature #296416: Improve flight physics
Feature #327466: New beeping sound
Bug #320751: Jettison Sometimes Bugged
Bug #322791: A4 obsv animation wrong
Bug #325264: speedbrake jam
Bug #327156: F-111 missile issue INSTANT DOGFIGHT
Bug #327157: Increase night light
Bug #327158: Easier flight physics
Bug #327456: F-111 missing bombs after rearm
Day and night operations
New aircraft physics
New missile physics
Various bug fixes and improvements
Add gameplay video recorder
New terrain graphics
Jets available for free version
Improve airplane 3d models
New instant dogfight multiplayer game mode
Various glitches and bug fixes
Various improvements
Fix game re-spawn issue
Fix room listing issue
Reduce NVA SAM
Display game version
Reduce SAM effectiveness
Fix crashes and various bugs
* SAMs for US and VN
* Realistic fuel consumption for helicopters
* Optimize, reduce lags and crashes.
Minor bug fixes
Improve water rendering
Minor gameplay improvements
Fix throttle should not higher than 100%
Fix ejection seat delay too long
Fix rudder sensitivity crash => limit sensitivity settings
Add new LZ closer to north VN (Helicopter Carrier)
Improve overall game performance
Radar block by terrain
camera follow downed pilot
free version could choose LZ
Disable auto eject
fix obsv missile lock
Recalibrate cannon
Volume up huey and cayuse gun
Change BG music
Jettison button
Bore sight radar mode for F4
Double phantom visual range
Spectator mode
Auto trim
Recalibrate cannons
Disable AI fighters on multiplayer
PvP support
Realistic dry and wet engine thrust
B-52 gunner and drop bombs
Vinh NVA airbase
Fix GUI shows up when startup
New water render
More realistic plane physics
Improve realism on fuel consumption
Optimize bullet physics
New cannon sounds
Cannon recoil effects
Slightly improve graphics
Various improvements
Various bug fixes
Private multiplayer
Add refresh button room list
* Increase tree texture resolution for iOS
* Shorten downed pilot survive time to half
* Increase chat text length 50%
* Jet/skyraider engine sounds volumed up
* Add more prohibited words for AutoBan
* Helicopters could play Rolling Thunder Ops.
* Take off at all locations
* New engine sound effects
* New missile hit sounds
* New heli physics
* Ejection seat for planes
* Rescue pilot task for helis
* New mission brief texts
* Improve gunner accuracy
* Various bug fixes & improvements
Optimize network
Disable collision between players
Auto lock device orientation
Chat text censoring and ban
Fix cobra turret rotation problem
Change aircraft without exit campaign (full only)
All orientation calibration
Multiplayer room owner could ban players
Multiplayer session join/create
Fix Huey attitude inverted
* New terrain with water
* Fuel simulation/drop tank
* Game mode train/easy/real
* Input settings
* New missions, campaign
* New targets
* Multiplayer with chat
* Improve heli physics
* Various bug fixes and improvements
Gunship III - Combat Flight Simulator - FREE FAQ
Click
here
to learn how to download Gunship III - Combat Flight Simulator - FREE in restricted country or region.
Check the following list to see the minimum requirements of Gunship III - Combat Flight Simulator - FREE.
iPhone
Requires iOS 8.0 or later.
iPad
Requires iPadOS 8.0 or later.
iPod touch
Requires iOS 8.0 or later.
Gunship III - Combat Flight Simulator - FREE supports English
Gunship III - Combat Flight Simulator - FREE contains in-app purchases. Please check the pricing plan as below:
Gunship III - Combat Flight Simulator - FREE Alternative