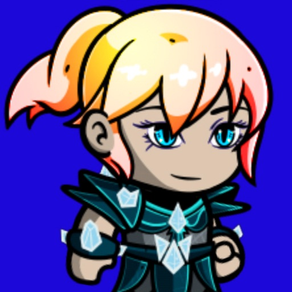 I.D.L.E.
Discover, Manage, Exploit!
Free
Offers In-App Purchases
2.9.2
for iPhone, iPad and more
About I.D.L.E.
Psst… Hey. Wanna make some money?

Space exploration has never been this lucrative.

The ink hasn't even dried yet on the tentative peace treaty drawn up between the Neotorian and Venah empires and you're already on the move. They say money makes the world go round, but you see that as short-sighted. Why stop with just one world, right? You want it all, and not just from your home planet. With peace comes renewed opportunity to expand your reach to other worlds. You don't care whether they're Humans, Elves or even Zombies, as long as they buy stuff. You'll have to start small and upgrade your resources, but hard work pays off and luckily there are plenty of land exploiters wanting to work for you.

Become the Intra-Dimensional Land Exploiter that you were destined to be!

In I.D.L.E. you have one responsibility: Get filthy rich.

Features:
* 4 factions included in this release.
- Neotoria is the steampunk human civilization. Advanced technologically, highly populated and culturally diverse.
- Venah are the collective tribes of forest people inhabiting a vast sector of space overrun with greenery and wildlife.
- The Atra Mors region is feared for good reason considering over ninety-percent of its population are undead.
- Azyria is a dark, shadowy civilization that remains largely a mystery to us. There are rumors that they are from a vampiric origin.
* 14 unique planets to exploit.
* 140 unique managers to hire and promote.
* 100 exploit levels, each with its own set of resource upgrades and achievements.
* 1000 possible resource upgrades at max exploit level for each of the 140 unique resources.
* Balanced gameplay with steady progression.
* Earn money while you're away.
* 1000+ hours of gameplay.
* Managers automate your income.
* Easy to learn with multiple effective strategies for success.
* In-app purchases to boost productivity, but not needed for progression.
* No internet connection required.
What's New in the Latest Version 2.9.2
Last updated on Apr 26, 2021
Old Versions
Version History
Miscellaneous graphic updates.
Welcome to our Easter Eggstravaganza!!!

Of course, there are graphic and audio updates, but also... 300%!! increased spawn rates for our "loot eggs" and (because we love our fans) a massive price reduction for factions (up to 90% off)!!!

Have fun and happy hunting!
We are pleased to announce that the Intra-Dimensional Land Exploitation Trade Agreement was finalized and the Azyrians have joined the alliance, permanently!

- Gameplay optimizations
- Graphic updates
- Minor bug fixes
- Misc updates to lore/content
Happy Halloween!
Twix and Tweaks
The wait is finally over!

Azyrians have arrived and just in time for Halloween!

Joining the exploiting is a brand new faction, complete with all new planets, resources and of course - Exploiters!

Hope you saved up those hard-earned Quartz Crystals because these Azyrians don't come cheap!

Included in this update:
- 1 entirely new faction.
- 3 new planets to exploit.
- 30 new exploiters to hire.
- 30 new resources to manage.
- Lots of new graphics.
- New halloween effects!
- New music!
- A much-requested Info section.
- ...and quite a bit more!

As always, have fun and happy exploiting!
Preparing for Halloween and the arrival of the Azyrian Empire!

Included in this update:
- Misc. optimizations to performance and memory handling.
Investigating rumors of a possible trade agreement with the Azyrian Empire...
(More info as it becomes available!)

Included in this update:
- Misc. game optimizations and minor bug fixes.
- New Info page under Settings.
Included in this update:
- Misc. shop optimizations and minor bug fixes.
Included in this update:
- Misc. game optimizations and minor bug fixes.
Final release! (take two)
Every indie company accidentally releases their alpha version once or twice, right? ...right?

Here are a few Quartz Crystals to say Thanks!

This update includes a TON of game optimizations, lots of new content, improved features and apparently the correct build. :)

Welcome to I.D.L.E.! ... and have fun exploiting!
I.D.L.E. FAQ
Check the following list to see the minimum requirements of I.D.L.E..
iPhone
Requires iOS 11.0 or later.
iPad
Requires iPadOS 11.0 or later.
iPod touch
Requires iOS 11.0 or later.
I.D.L.E. supports English
I.D.L.E. contains in-app purchases. Please check the pricing plan as below:
1,000 Quartz Crystals
$0.99
6,000 Quartz Crystals
$4.99
13,000 Quartz Crystals
$9.99
30,000 Quartz Crystals
$19.99
200,000 Quartz Crystals
$99.99
80,000 Quartz Crystals
$49.99