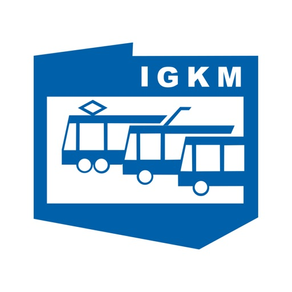 IGKM inTouch
1.5
for iPhone, iPod touch
About IGKM inTouch
Aplikacja ma służyć uczestnikom eventów organizowanych przez IGKM poprzez dostarczanie informacji o wydarzeniach bezpośrednio na ekran urządzenia mobilnego.

Aktywuje się ona do pełnej wersji konferencyjnej w momencie rejestracji uczestnika konferencji w recepcji konferencyjnej.

Aplikacja zawiera następujące elementy informacyjne:
● szczegółowy program merytoryczny wydarzenia,
● informację o współorganizatorach wydarzenia,
● informację o prelegentach i streszczenie ich wystąpienia,
● listę uczestników konferencji,
● informację o sponsorach konferencji wraz z krótką prezentacją aktualnych produktów,
● szczegółową informację o pozamerytorycznych informacjach programu (np. informację o miejscu i czasie odjazdu autobusu, informację o programie dodatkowym w trakcie),
● mapkę lokalizacyjną wskazującą poszczególnie miejsca związane z organizacją wydarzenia,
● informację o menu,
● podsumowanie eventu dostępne w trakcie lub po jego zakończeniu,
● numer telefoniczny do pracownika IGKM odpowiedzialnego za kwestie techniczne.

Aplikacja umożliwia nadawanie powiadomień organizacyjnych o zakończeniu przerwy w obradach lub – w wyjątkowych przypadkach – o zmianie godziny rozpoczęcia obrad.

Udostępniony będzie moduł pozwalający na przedstawienie merytorycznego materiału do głosowania lub dyskusji z możliwością edytowania on-line, który będzie jednocześnie umożliwiał przeprowadzenie takiego głosowania.

Aplikacja będzie również zawierała moduł ankiety ewaluacyjnej, która może być wypełniona jeszcze w trakcie konferencji lub po jej zakończeniu.
What's New in the Latest Version 1.5
Last updated on Oct 26, 2021
Old Versions
poprawa działania aplikacji
Version History
poprawa działania aplikacji
Aktualizacja działania aplikacji
fix for UX in category with single entry
Added QR code scanner and some appearance fixes
Possibility to add photo to category tiles.
Fixed offline version off application not working correctly on certain devices.
IGKM inTouch FAQ
Check the following list to see the minimum requirements of IGKM inTouch.
iPhone
Requires iOS 10.0 or later.
iPod touch
Requires iOS 10.0 or later.
IGKM inTouch supports English