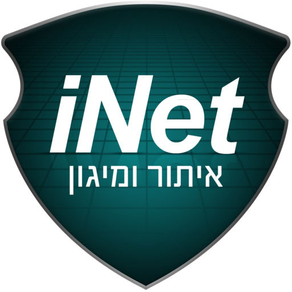 iNet Supervisor Screenshots
About iNet Supervisor
מהיום הקודנית עוברת לסמארטפון
האפליקציה הראשונה מסוגה בעולם המאפשרת זיהוי נהג ואימות משתמש על ידי סריקת טביעת אצבע או הקשת קוד סודי - " קודן וירטואלי " ישירות מהסמארטפון .
אפליקציית הSupervisor- iNet מנטרלת את מערכת הiNet " איתור " אשר מותקנת בכלי הרכב ומבטלת את ממשק התראה למוקד ולטלפון הנייד של משתמש - מאפשרת " נסיעה חוקית ".
האפליקציה מאופיינת כרשת המאגדת את כל משמשיה המורשים ומקשרת בין כל בני המשפחה שהוגדרו למערכת .
אופן הפעולה:
לפני התנעת הרכב יש לפתוח את האפליקציה ולבצע זיהוי משתמש על ידי הקשת הקוד הסודי או על ידי שימוש בטביעת אצבע , רק במידה והמערכת ביצעה אימות משתמש הממשק ינוטרל .
יכולות ויתרונות המערכת
הפעלת אזעקה / התראה ישירות לסמארטפון .
• זיהוי משתמש ונטרול המערכת על ידי טביעת אצבע .
• זיהוי משתמש ונטרול המערכת על ידי קוד סודי ייעודי .
• הנפקת קוד אישי סודי עבור כל משתמש מבני המשפחה / ציי הרכב .
• הוספת נהגים בקלות וביעילות ישירות מהאפליקציה .
• רישום שמות נהגים ומשתמשים מורשים עבור תיעוד ניהול הנהגים
לאפליקציה כמה רמות משתמש לבחירה ( תלוי דרישת לקוח / חברת ביטוח )
• ממשק בסיסי של קודן וירטואלי המשמש אימות וזיהוי נהג לנסיעה חוקית מאושרת .
• ממשק מורחב המאפשר לראות ולעקוב אחר מיקום הרכב און ליין בזמן אמת ישירות מהסמארטפון
• ממשק מורחב המאפשר לראות ולעקוב אחר מיקום הרכב און ליין בזמן אמת ישירות מהסמארטפון , הוספת וניהול נהגים ומשתמשים ועוד ..
פונקציות בסיסיות של ממשקי המערכת המורחבים :
• מד עוצמת סוללה / מצבר הרכב .
• התרעות בגין חריגה ממהירות מוגדרת .
• הצגת מהירות נסיעת הרכב און ליין בזמן אמת .
• מעקב אחר מסלול נסיעת הרכב הכולל סימון מסלול הנסיעה
• תזכורת על שכיחת ילדים ברכב בעת יציאה / סגירת מתג ההתנעה
לפרטים נוספים ומידע ניתן להיכנס לאתר החברה .
הערה : פעולת ממשק סריקת טביעת האצבע , אינה נתמכת בכל סוגי המכשירים .
What's New in the Latest Version 1.2
Last updated on Nov 6, 2017
Old Versions
iNet Supervisor FAQ
Check the following list to see the minimum requirements of iNet Supervisor.
iNet Supervisor supports English
iNet Supervisor Alternative